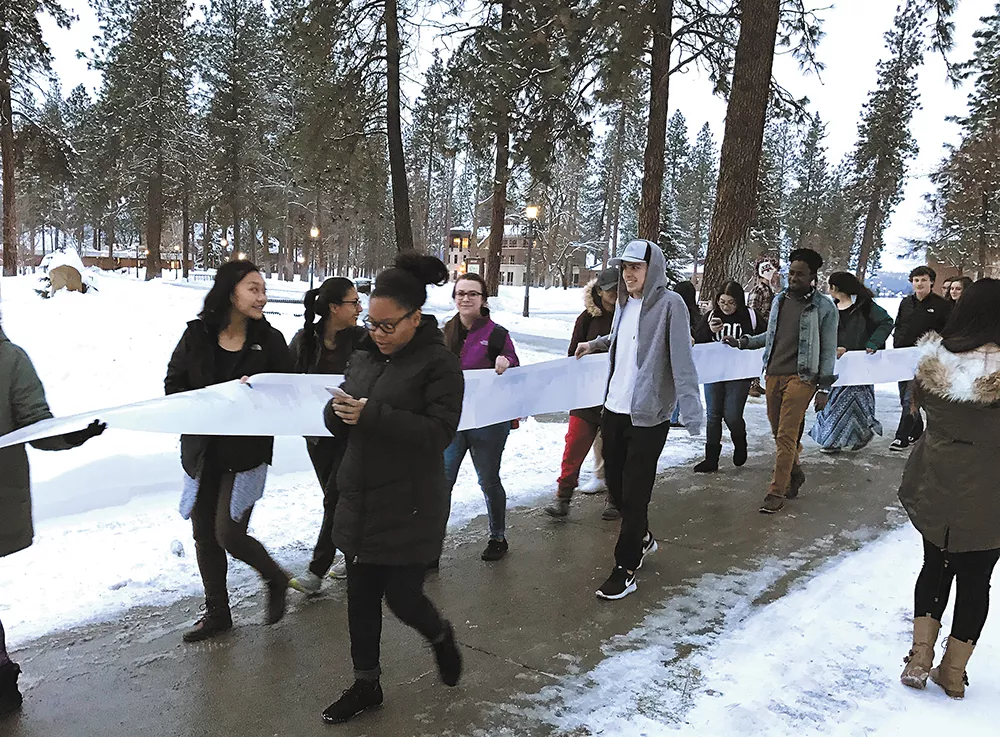 For a college campus in 2017, there was nothing particularly unusual about what happened at Whitworth University last Friday afternoon. There were 50 students marching toward the president's office with a petition to make the college a sanctuary campus. There were a couple of counterprotesting Trump supporters dressed from head to toe in American flag apparel. And there was a college president, Beck Taylor, prepared to take on the challenge.
"I wasn't aware you were going to be here today," Taylor told the students in his office. "Although I was expecting this at some point."
College students all over the country have been demanding that their schools be declared sanctuary campuses. They want to be assured that law enforcement will not be allowed onto school grounds to detain undocumented immigrants, and that the private information of these students won't be shared without a warrant. Many undocumented students have been granted a temporary reprieve from the threat of deportation under Barack Obama's Deferred Action for Childhood Arrivals (DACA) program, but students worry that President Donald Trump's immigration policy will change that policy.
It has spurred college students into action.
"We felt like Whitworth needed to reinforce its values and protect a community that's very much in fear," says Catalina Corvalan, a Whitworth freshman who helped organize the march on Friday.
For colleges, it's not that easy. Schools want to protect their students, but actually declaring themselves "sanctuary campuses" could have unintended consequences, such as a potential loss of federal funding. Harvard University decided not to declare itself a sanctuary campus, with its president, Drew Faust, arguing that it might actually endanger students rather than protect them. Eastern Washington University's board of trustees declined to declare EWU a sanctuary campus last fall, but did reaffirm "its commitment to protecting the safety, security, and well-being of its students and staff, regardless of their immigration status, within the limits of the law."
Jessica Vaughan, director of policy studies for the self-proclaimed "low-immigration, pro-immigrant" Center for Immigration Studies, says that becoming a sanctuary campus wouldn't actually help undocumented students in the first place.
"A lot of these declarations are purely symbolic, and do not do much more than declare that the campus is welcoming to all its students," Vaughan says.
With more than 1,000 signatures, including some from faculty and staff, it took more than a dozen Whitworth students to carry the giant petition across campus on Friday. The petition called for three things: A public statement declaring Whitworth a sanctuary campus, guaranteed privacy regarding immigration status, and a notification to local law enforcement that they cannot execute immigration enforcement operations on campus.
"It's important that Whitworth affirms that in no way, shape or form will deportation or apprehension operations ever occur on campus," says Whitworth junior Kamau Chege.
Chege, Corvalan and other Whitworth students who delivered the petition are part of a local advocacy group called the Spokane Dream Project. Taylor, Whitworth's president, said he stood in solidarity with the group of students and agreed to meet with them to work out the most appropriate response to the petition. He read a letter that he sent that day to U.S. Sens. Dick Durbin and Lindsey Graham in support of a proposed bill to protect the 750,000 DACA recipients.
"I have tried to, at every turn, express my support for undocumented students, and I continue to do so," Taylor said.
But he did not give any indication as to how the school would respond to the student requests. Instead, he told the student leaders he was "on their side" but wants to gain a deeper understanding of the issue before making a decision, according to student Sara Trujillo.
Across the country, this isn't something that only students want. Many faculty members support the idea as well. Washington State University's faculty senate discussed a proposal last week that would make WSU a sanctuary from "unfair deportations and intimidation." Faculty Senate Chair A.G. Rud says he, personally, is interested in giving support to undocumented students in any way he can. He noted that WSU President Kirk Schulz wrote a letter to the campus late last year ensuring that the campus was open and hospitable to all students, though it did not use the word "sanctuary."
"I think the word 'sanctuary' is something that people are unclear what that exactly means," Rud says.
It's exceedingly rare for U.S. Immigration and Customs Enforcement to raid a school. But if there ever were a scenario where ICE needed to do that, a sanctuary campus couldn't stop them, says Vaughan, with the Center for Immigration Studies.
If there was a threat to national security on campus, she argues, it wouldn't make sense for a college or university to get in the way of that because of a blanket policy protecting undocumented students.
"In the case of most of the colleges and universities looking at this, the administrators are just trying to pacify the faculty and the students that demand this, knowing full well that they cannot really prevent enforcement from happening, and probably wouldn't want to, because of public safety implications and financial implications for the schools," Vaughan says.
Furthermore, they could be risking federal money. Trump promised to pull federal funding from sanctuary cities that made statements similar to what colleges are declaring. While that would require approval from Congress, it's feasible to imagine that could impact sanctuary campuses as well, Vaughan says.
But Jessica Hanson, with the immigration advocacy group National Immigration Law Center, says people can get the wrong impression when they hear the word "sanctuary," mistaking it for "harboring" people. Hanson says what students are asking for is already practiced in many cases. Federal privacy laws already limit information colleges can share, and most campus police don't ask about a student's immigration status.
"Colleges are not creating a new law by saying they're not going to let [ICE] raids happen," Hanson says.
She says it's still important to reinforce those laws for campus staff and police. Laying that out in a specific policy, she says, can be helpful for undocumented students who didn't have to worry as much about potentially being deported in the past several years.
"Even the thought that this could potentially change in the future," Hanson says, "is something that is getting people energized." ♦