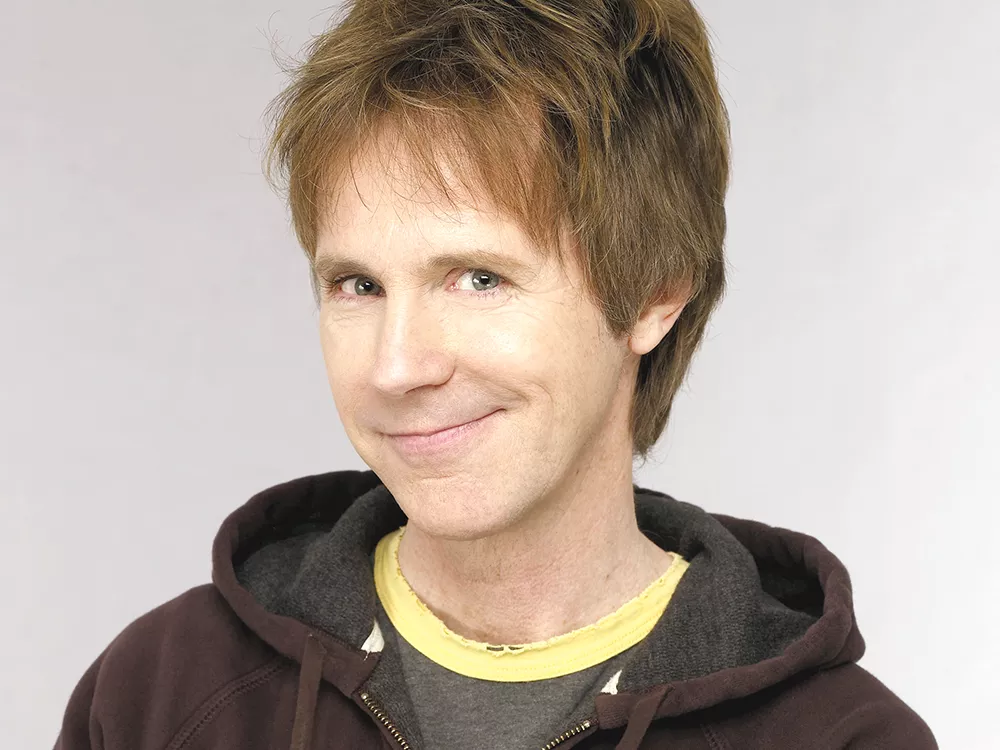 With Ambien packed safely in his suitcase, Dana Carvey is ready to travel to his next gig. His routine for getting in the correct stand-up mind-set hasn't changed in more than 30 years in the business — although the sleep aid wasn't always there.
"I treat it like an athletic event," says Carvey, on his way to the airport two weeks ago.
Once he gets to a show venue he stretches, hits the floor for push-ups, walks it out. He then scans through his notes, psyching himself up for the evening ahead. As off-the-cuff as his onstage set may seem, it's all well rehearsed. He admits he still gets nervous.
Carvey brings this diligence, and famous impersonations, to the fundraising event Coaches vs. Cancer Saturday at the Fox Theater. Now in its 12th year in Spokane, the event, hosted by Gonzaga men's basketball coach Mark Few and his wife Marcy, has raised more than $6 million for national and local cancer nonprofits.
Born in Missoula (with family members who attended college there), Carvey recalls spending time in Spokane. A phone conversation with him is exactly what one would expect. He pulls all of the crazy voices and tells it like it is.
On why it took him so long to get a Twitter account:
"I wasn't against it at all, I just didn't have one. Basically it came down to my friend [Twitter CEO] Dick Costolo telling me I needed to get one. And I didn't want to be some grumpy old man (goes into grumpy old man voice). My father passed on computers, I didn't want to be like that."
On why he wanted a degree in broadcast journalism:
"I was wowed by the TV cameras … But you know I was doing stand-up on the side in San Francisco, and as soon as I graduated I waited tables. Once I was making $700 a week with stand-up, that was my goal, I figured I could quit and do stand-up full time. But I would have loved to do radio; you don't have to shower and it's total improv."
On if he likes coming back and performing on SNL:
"Last time I was on, [current cast member] Bobby Moynihan was crying when he met me. He said he trick-or-treated as the Church Lady. Many of those cast members grew up watching me. If I had known they were, I would have tried harder."
On how he's stayed with his wife for 30 years:
"Some comedians are a little different, when you have an original wife or husband. It's a tsunami when you sprinkle in a lot of money, and if you can make it through that first wave, you can make it. It's a commitment. Tipper and Al Gore getting divorced after that long, that was just crazy to me (off into a Al Gore impression) 'I'm free...' "
On what his family thinks of him referring to them in his act:
"Well, they know I'm not really talking about them at all. It's other people's kids, generalized teenagers and stories I've heard. I take the emotionality of parenting, observing it all, and everything finds its way in there."
On his relationship with George H. W. Bush (who he famously impersonated on SNL):
"[George H. W. Bush laugh] He loves my impression of him. Republicans are not trying to save the world, so they have a good sense of humor."
On who he views as the best impersonators out there:
"Darrell Hammond, Kevin Pollak and Frank Caliendo. They actually can become the person. For me, it's the style and the feeling, getting the core essence of the person, then I can have fun."
On if there ever will be a Wayne's World 3:
"I don't know. Mike (Myers) and I, we've talked about it, but he has a child now. He's happy. I don't really know where it's at. It's nice that people still care, though."
On how family-friendly of a show he'll have Saturday:
"I can make it PG-13. There're only two jokes I have with the F-word in the punch line that I'll take out; the rest I can work around."
An Evening with Coaches vs. Cancer with Dana Carvey • Sat, Aug. 24 at 8 pm • Martin Woldson Theatre at the Fox • 1001 W. Sprague Ave. • $40 and up • ticketswest.com