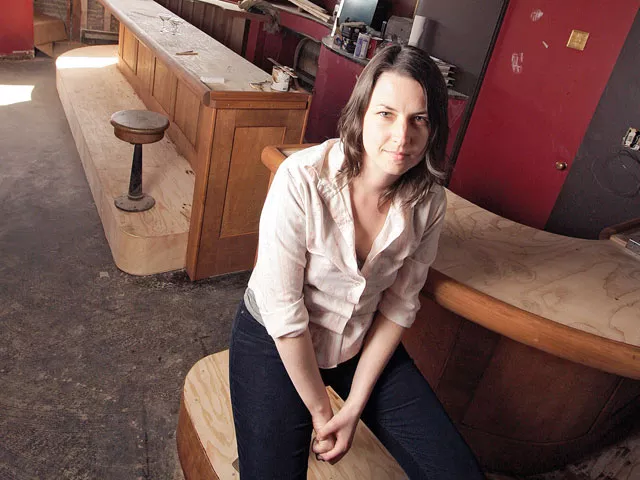 On a recent Monday at noon, it was standing room only at the Garland Sandwich Shoppe. Every table was taken and most of the chairs were filled as owner Kristen Speller and her mother Kathy Fitchner hustled to fill orders.
Everybody seemed to know everybody that day, either through deep neighborhood connections (Speller went to Shadle and lives near NorthTown) or because they stopped in for lunch one afternoon and made a habit of coming back.
It's usually more hectic. Crunching the sales numbers, Speller says, "today was half of a good day." She made enough to cover costs, but she's gotten used to twice this much business.
"Most of our business comes from word of mouth," Speller says, "and that 30-foot banner that says, 'sandwiches.'"
Speller's shop is only part of a larger story happening in the Garland District.
One door north of the sandwich shop, on a neglected stretch of North Madison, in front of what used to be a veteran's club. The Garland Pub, open all of nine days, was fixing its marquee.
Marilyn Sanseri, who owns the bar with Jerry Armstrong, says, "business has been very good." The 12 people gathered around the bar and nearby tables — many of whom were nursing a full drink with an empty glass or two around them — seemed to back up his claim.
"We've had people from 21 to 92 come in here," she says, "and the drunkest was 92, this little old lady who was this big around," making a circle with her thumb and forefinger about the diameter of a silver dollar.
Down the block, at Garland and Monroe, there's light construction in a section of the Garland Theater has been empty for the last eight months but will soon transform into a bar called Bon Bon. So far, there's a long, curving, post-war-looking bar going in off the west wall. The place is mostly bare wood at this point, though there are a few of the hand-wrought stools bolted in place. Enough to give a sketch of the undulating lines the place will eventually have. Working in conjunction with Dan Spalding, who designed Zola, Dena Carr, who does marketting for the theater, says they wanted "a space that felt like it's been a bar since 1945." To that end, they've gotten former Mizuna shot-slinger Brooklynd Johnson — a connoisseur of classic cocktails — to manage the place.
The intended audience is "younger people, starter homes," Carr says, rattling off a rough demographic and income bracket of many of the residents here, "late 20s, early 30s."
Speller, one of those 20-to-30-somethings, is excited about the place. "It's something the district does not have, and we need it," she says.
Carr says they plan to open in mid-April.
Further east, the iconic breakfast place Ferguson's, which closed amid tax problems in late 2009, is showing signs of life. The new owner, David Jones, a veteran of the breakfast trade (he owned the old Arny's by Gonzaga and managed Hogan's Hamburgers for years), has found it hard to keep the cat in the bag. "It's like, shit, I haven't told anybody," he says. But word travels fast.
It's usually a nightmare, opening a new joint cold like this, and for that reason, Jones says, "I told myself I'd never do a new restaurant again." But opportunities like this — a landmark eatery and a lease with the option to buy — they don't come around often. "Owning was a big incentive."
The interior has undergone a significant renovation so far. Pony walls have come down on the east end, making room for larger, family-sized tables. The menu will stay very similar to the Ferguson's of old. He hopes to open by May 1.
Armstrong of the Garland Pub says the building that now houses the bar had stood vacant for a few years. A lunch place had failed in the last year in the same location as Garland Sandwich. The fortunes of businesses around here seem to rise and fall like a tide, but Ed Ritchie, who has seen many businesses come and go since buying Mary Lou's Milk Bottle in 1997, has noticed a change in the makeup of the neighborhood lately.
"We're seeing a lot of new customers," he says, especially young couples new to the neighborhood. "Our base is growing."
For a neighborhood center, walking around is exactly the point. "This has the potential to be a Hawthorne District," Carr says, invoking the Portland's neighborhood known for its densely packed coffee shops, clothiers, cheap restaurants and for its bohemian-bourgeois vibe.
"It just takes a couple businesses to inject that energy," she says. Carr believes Drop Yer Drawers — the hippy-chic thrift store that relocated here from East Sprague — is one such business, and hopefully Bon Bon will be another.
Animated and droll, Speller takes a self-deprecating pride in the closeness of everyone. "It's like a li'l family around here."
By mid-April, look for that family to have a few more members.