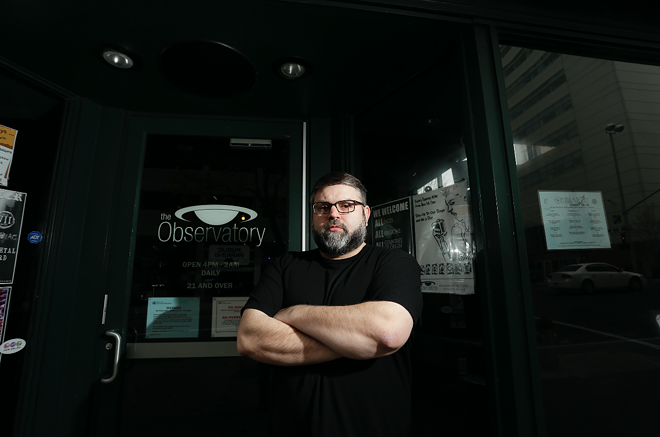 So remember when we told you there's a local chapter of Proud Boys, and that some downtown bar owners were banding together in their decision not to allow them in their businesses?

Well, at least one owner is now feeling the heat as it appears that someone unhappy with that decision has taken to writing fake reviews of his business.
But first, a recap: The concern is that the right-wing men's group, which nationally has been labelled a hate group by the Southern Poverty Law Center, has ties to organizations that attract white supremacists. A
Proud Boy helped organize the Charlottesville "Unite the Right" rally
, which Proud Boys founder Gavin McInnes later tried to distance the group from after it turned deadly.
Proud Boy initiation involves violence (which members claim is mostly a joke), and it's considered an honor to get in a fight with antifa (anti-fascists).
McInnes, who has since distanced himself from the organization, is known for misogynistic and transphobic rhetoric. A big part of the group's brand is to sneer at political correctness, but some local Proud Boys went further than that when they told a local bartender they were going to go beat up gay men (using a slur to describe them), and then used a racial slur to describe the bar they were going to.
Before the local chapter's Facebook page was shut down (along with all Proud Boy pages), there were multiple posts about gathering bear spray and pepper spray to use in fights with antifa, and others supporting white nationalist James Allsup.
The local chapter's vice president, William Hulings, says the Proud Boys are not anti-LGBT, and they're adamantly against racism and fascism. Hulings is a veteran and touts the fact that he's half-Asian and other members in the group are minorities as proof they're simply a drinking fraternity for mostly conservative men.
The FBI recently clarified it hadn't labelled the group as extremists, as had been reported in a Clark County Sheriff's Office memo, but they were
talked about during a presentation on "domestically inspired acts of violence,"
Oregon Public Broadcasting reports.
The Proud Boys took that as a victory showing they've been misrepresented.
"Mind blowing you or anyone else would think I would support hateful racist white supremacists," Hulings writes in a Facebook message to the
Inlander
. "I f—-ing despise people like that..."
But the concerns for local bar owners started after the group went downtown in November and filmed themselves trying to "trigger libtards." It was clear they were trying to provoke a reaction.
Several owners decided they don't want Proud Boys at their establishments, and in the meantime, they wanted others to know it's best not to give them the reaction they want.
"I don't want to give them any notoriety, but I also want people to be aware of how to handle them, and not to fight them," Observatory owner Tyson Sicilia said for the story.
Since then, the Observatory has been getting what appear to be fake Facebook and Google reviews, and he's had to respond with a boilerplate explanation as cockamamie claims roll in.
For the most part, it's pretty easy to pick out the questionable posts.
Take this "doesn't recommend" Facebook review from "Hymie Lipschitz," an account with only two friends, including one of the people who comment on the review:
Aside from the fact that "Hymie" has been used as an ethnic slur for Jewish people, Sicilia says the claim is clearly a lie.
"That obviously did not happen," Sicilia says.
He is working to get the review removed and he flagged the account, but for now, it's the first one that shows up on the bar's page.
While some of the other reviews are laughable, some seem more believable, Sicilia says, which is concerning.
And on Google, where the posts are worse, it's harder to get reviews removed.
Before the article, most of the bar's reviews were 4 and 5 stars:
But after, lots of 1 stars started popping up.
A closer look at the names or details can reveal fakes:
While the "little person" post gave Sicilia a chuckle, as he could only ask "What are they even thinking?" he says the rat droppings review made him scratch his head.
"We were laughing about that one, like, 'Yeah, we train them to go to the toilet,'" Sicilia says. "The names they use, those are dead giveaways. Yeah, if I'm gonna go dining, I'm gonna listen to DeepAnus 69."
But some of the posts seem more realistic:
First of all, Sicilia says there hasn't been a band at the Observatory since the article came out, so the "hipster live show" didn't exist.
"That obviously didn't happen, and there was no show that she'd been waiting on," Sicilia says.
Secondly, his staff aren't discriminating against trans people, and the details of the second review don't add up.
"We've never had a cocktail with lavender in it ever, at least to my knowledge," Sicilia says, "and we've never carried PBR, not once."
As far as he knows, no Proud Boy has actually come into the bar since the story.
But the online complaints have been pouring in, and while Sicilia knows he shouldn't let it get to him, it's definitely annoying. For now, he's just trying to deal with it as it happens.
"I'm trying not to stir anything up really," Sicilia says. "They clearly have way more time on their hands than I do. They're keyboard warriors, I swear."
Hulings says he's not the one writing those reviews, and doesn't know who is.
"I don't know anything about them reviews...," Hulings writes. "Who ever did them are funny people..."
He provided a screenshot of a review he did leave (f-word censored by us):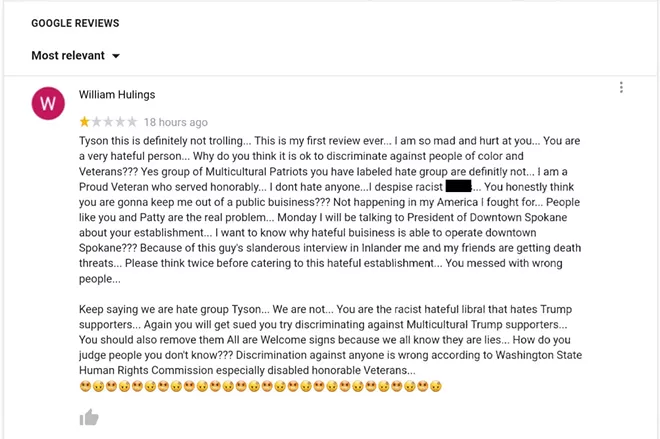 When asked what he thinks the reviews are trying to do, because it seems like they're meant to damage the business, Hulings writes, "Yes very disgusting to be labeled something you are not especially by white people..."