I t's Give Guide, so time again to recognize three locals working hard to make the Inland Northwest a great place. We asked you for nominees, and the field was impressive. Typically we prioritize people 40 and younger who have shown unique devotion to their causes. For 2016, Teri Koski, Ryan Oelrich and Dylan Stiegemeyer are the winners of the Peirone Prize. Each winner gets a cash honorarium and a fancy granite award for their desk.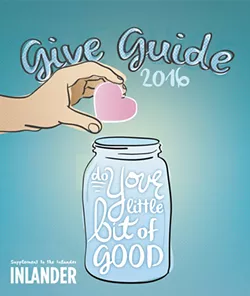 The annual prizes — now seven years old — are named for Joe and Alice Peirone, the grandparents of Inlander founders Jer and Ted McGregor. In their time in Spokane, Joe and Alice started a business — Peirone Produce — grew a big family and supported a variety of local charities.
As you read these remarkable stories, remember all the organizations and individuals out there who do so much for neighbors in need. A big part of the Give Guide is to shine a light on those effort so the community can say "thank you." And please consider making a gift to any charity you read about in these pages. Every bit of support makes a difference.
Click the cover image to the left to view the digital copy of this year's Give Guide. Along with the Perirone prize winners, there's an index of the more than 70 non profit organizations who advertised in this year's guide. Read through the causes, find one you love and give a little bit.