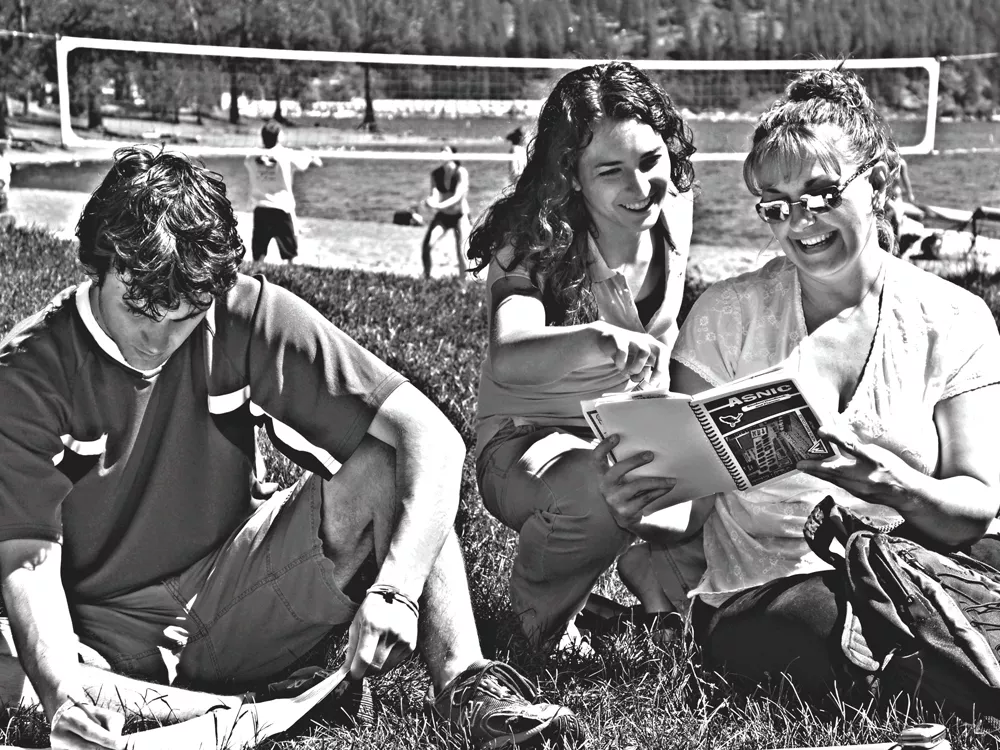 T
his campus may be small,
but it has a lot to offer. For starters it boasts lake-front property and you won't be able to forget it. Classes occasionally meet outside, extracurriculars are water-focused and your best shot at free parking is along the waterfront. So start finding ways to write off a day on the water as an "educational experience."
MYTH EXAMINED: "It's too hard to make friends without all those student groups that big campuses have." Going to community college can leave you feeling like you're missing out on all that social bonding you see in movies about college. (Most NIC students commute and many of them live at home.) But NIC has plenty of clubs and groups to fill the void.
Intramural sports, outdoor programs and equipment rentals give you the chance to find a new passion or meet people who share your interests. Plus, you'll find plenty of those niche groups: get political in student government, plan the campus's next bash on the Student Events Board or help recruit new students as a campus ambassador — and that's not to mention the student newspaper (The Sentinel), the drama club (Actors, Vagabonds and Such) and the Gay/Straight Alliance.
Verdict: Busted. There's no excuse not to meet other students.
MYTH EXAMINED: "It's getting easier to finish all four years in Coeur d'Alene even though there's not a four-year school there." There are already satellite campuses of the University of Idaho and Lewis-Clark State College in town. You can get your 100 and 200 level courses from NIC and move on to 300 and 400 level classes at the LCSC complex up the street. The same goes for the University of Idaho, which offers a handful of bachelor's and master's degree programs at its Coeur d'Alene campus nearby. You won't be unusual — about 80 percent of University of Idaho's Coeur d'Alene students come from NIC.
If you want Boise State University or Idaho State University credits without leaving Coeur d'Alene, ask about independent study options. (It won't get you a degree, but you can rack up some credits from afar.)
Verdict: Confirmed. And the future may be even brighter. University officials say that someday Coeur d'Alene's Education Corridor (right now just some nice new roads and sidewalks) could be home to even more classrooms and satellite campus space.
Last Year: The college brought in $300,000 less than it expected in tuition revenues. That's because more part-time students enrolled than full-time students. While NIC had some savings in other parts of its budget to make up for the shortfall this year, it is expected to be a sign that the school will continue to struggle to pay for its needs.
FAFSA night: Don't miss the school's annual event where free pizza and help on your federal student aid application are the highlights. Look for it in February.
You won't find a parking spot: Unless you are "watch-the-sunrise" early or taking night classes, you just won't find a spot on campus. So accept that now. Take a deep breath and head for Rosenberry Drive, the road that runs between the lake and the campus.