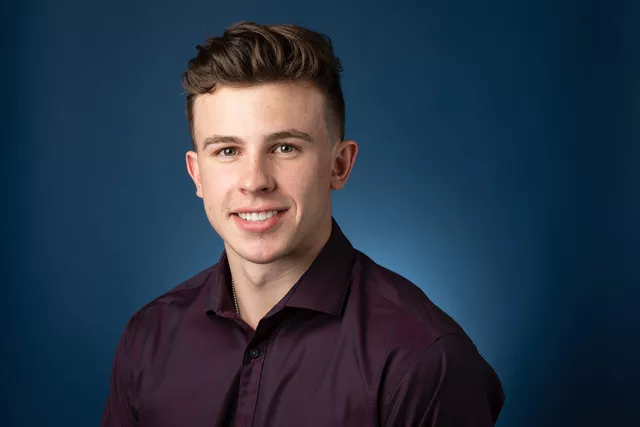 W
hen John "Colin" Richards
was a baseball player at Coeur d'Alene High School just a few years ago, he was fairly certain athletics would be his career path.
He'd planned to play for Loyola Marymount University, and all seemed going to plan until a severe injury took him to the ER his senior year. While recovering overnight from surgery, he watched
The Martian
as he thought about how his college plans were suddenly changing.
"I've always been really interested in space," Richards says. "I was like, 'My baseball career is over, what do I do next?'"
So he decided to look into what it would take to become an astronaut and go all in on that path.
"All you needed in the past to be an astronaut was a PhD in something scientific and a bunch of flight hours," Richards says. "I thought, 'OK, I really enjoyed chemistry, so why not go with that?'"
Little did he know his undergraduate experience at LMU in Los Angeles would enable him to jump right into research labs, where his work studying DNA structures known as G-quadruplexes would help land him an internship at NASA the summer after his junior year.
Although he knew of different research that happened at NASA, Richards says when he found out he'd gotten the summer 2019 internship, he hadn't yet heard of the space agency's Center for the Origin of Life at Georgia Tech in Atlanta.
"The whole premise of their lab is they're looking to definitively discover the origins of life on Earth so they can apply that model to other planetary systems and see if life could develop on other planets that are similar to Earth, or different," Richards says.
The lab he worked for was exploring the premise that the ribosome - basically a protein factory that communicates with DNA and RNA - is the building block that allowed life to begin.
It turns out that there are tentacle-like strands on small pieces of those ribosomes in humans, which wasn't known until about two years ago, Richards says.
"I show up, they said, 'Now we know those tentacles are there, what do you think they do?'" Richards says. "My whole job was first coming up with an idea of what their function might be and then figuring out if my idea was possible."
Richards was able to help show that those tentacles could connect with each other and make the structures he was so familiar with: G-quadruplexes, a discovery which led Richards and others in the lab to be
published in December 2019
.
"When I showed up at the research center, they told us, 'Do not anticipate a publication, it's not something that happens.' But I told myself, 'I'm in Atlanta, I don't know a single person here, I want to spend my entire summer putting in as much work as I can,'" he says. "It's definitely an accomplishment I'm going to cherish for probably the rest of my life."
Now that he's finished up his undergrad degree in chemistry — popping champagne with his parents and spending time on Priest Lake instead of having a graduation ceremony in LA due to COVID-19 — Richards says he's considering many next steps, including business school, working in biotech or industrial startups, and/or working in sustainable manufacturing.
"What I'm really interested in is using my chemistry degree for climate mitigation," Richards says. "There are so many ways I can use chemistry to better the world, and that's a huge thing right now is climate change and all the waste."
In the meantime, he's still interested in advancements in space travel, and public-private partnerships like the one so many planned to watch over the weekend with SpaceX's historic flight.