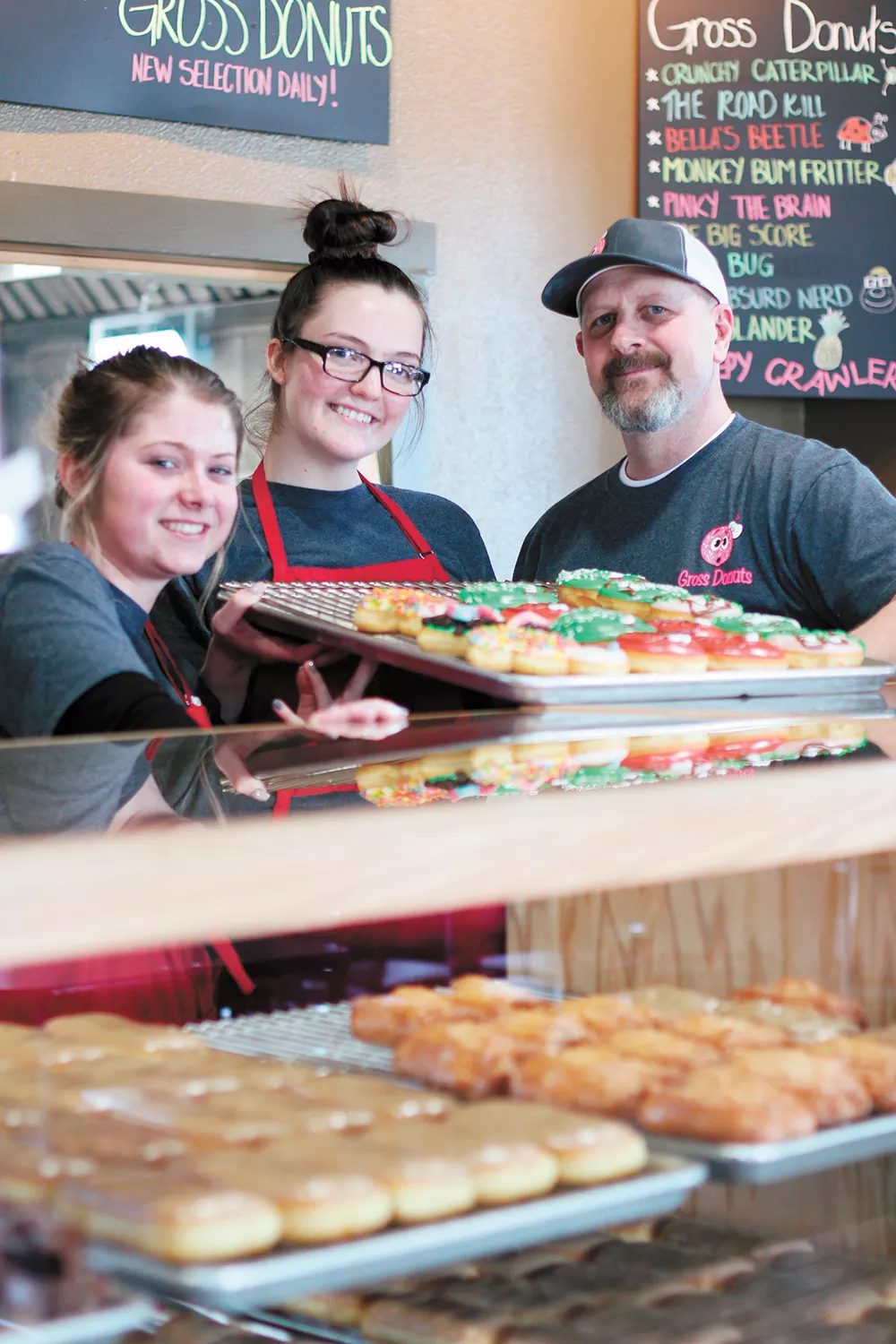 When his parents sold him the donut business they'd run since 1978, they left a lot of themselves behind, says Dennis Gross. There were the recipes his father, Steve Gross, had been using for maple bars and apple fritters — their most popular donuts — but also sage advice like "A good donut doesn't need a lot of sugar to mask the flavor" and "Charge more and make a better product."
"We try to make our donuts with the best of care," says Gross, who started helping out in the family business at age 9. His classmates, he says with a grin, used to tell him: "You smell so good."
His parents relocated to the area in 2005, bringing their donut business know-how with them from California and starting Donut Dugout in Post Falls shortly after.
In addition to Donut Dugout, which he renamed Gross Donuts, Dennis runs a second Coeur d'Alene shop. While the Post Falls location includes a large meeting space that's popular with crafters, church groups and other folks in search of a convenient place to gather (and treat themselves, if they wish), Coeur d'Alene's Gross Donuts is within sight of the on-ramp to Interstate 90.
Both are open 24 hours, with nary a problem in all their years, says Gross, who typically arrives at 8:30 pm and leaves at 4:30 am when he's done baking, occasionally stopping back by the store later in the day.
What kind of customers do they get in the middle of the night? Plenty, says Gross, including cops. At this he can barely contain his laughter; his father, you see, was a cop... who opened a donut shop. More laughter.
Gross' sense of humor manifests in other ways, too. Take the fritter selection, for example: bear scat (blueberry), roadkill (cherry-flavored) and monkey bum (banana).
All kidding aside, says Gross, they're serious about providing a good product day in and day out in a welcoming location, both of which are dad-approved, says Gross. And his mother? She emphasized cleanliness, telling him that customers will notice: "If your bathroom's clean, your kitchen's clean."