When Allison Burnett saw one of the owners of Embers by the Lake out walking a few years ago, she was through the door and inquiring about whether or not the popular Hauser Lake pizzeria might ever be up for sale. To her surprise, Jane Hammons, who opened the place in 2014 with husband Chris, said yes.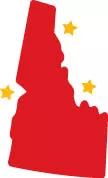 "Six weeks later it was ours," says Allison, who had been a regular customer at Embers since moving to North Idaho in 2019 for husband Rob Burnett's job with Sysco. They lived just across the lake from Embers with their three children, the older of which frequently help out at the restaurant since the Burnett's purchased it last year, reports Allison.
"It couldn't have been better timing," says Allison, who credits employees with the success of the restaurant, recently named best in Idaho by Yelp and Money magazine.
"I think that if there's one secret to our success, it's our staff," Allison says.
Another key component, adds Rob, is they haven't monkeyed with the formula from the prior owners: made-to-order pies at competitive prices in a family-friendly environment. Although summer is their busiest time, they have remained steady through the winter, Allison says.
The only changes have been to increase menu options, mostly based on customer requests, with things like the wood-fired chicken wings, blistered shishito peppers and meatballs. And they've added pizzas, like the Father Guido — sausage, pickled peppers, shaved parmesan — and the Allison Wonderland.
The original name for the pizza, which includes a blend of roasted forest mushrooms, was "Alice in Wonderland." Unbeknownst to her at the time, Rob changed the spelling, and she decided to leave it.
She loves coming to work, says Allison, who can see across the lake when her husband's headlights turn towards home after closing up for the evening. And she would happily eat pizza every single night given the variety of Embers' menu. And above all, she feels really connected to the community, which has been amazingly supportive.
"It's funny how much richer our lives are because of Embers," she says.