IDAHO LEGISLATURE
District 3, Senate
Don Cheatham is currently in his second term serving as a member of the Idaho Legislature representing Post Falls, but now has his sights set on the Senate. He's a Republican, a former member of the Los Angeles Police Department and a former regional director for the U.S. Department of Homeland Security. As a state representative, he's proposed a bill that allows a concealed weapon permit to serve as ID to vote and another bill that allowed active military members — even if they're not Idahoan — to carry concealed handguns. Both bills became law. Cheatham is facing Democrat Patrick Lippert, who has made little noise during the campaign.
District 3, House
Tony Wisniewski is an active member of the Kootenai County Republican Central Committee, serving as vice chairman, and he checks many of the boxes of an Idaho Republican in his run for state House of Representatives. He's anti-abortion, pro-Second Amendment and against Common Core education standards.
He's facing Democrat Dan Hanks, who is focusing his campaign on education, saying schools in Idaho are "in a state of chronic financial crisis." He says he'll also fight for better conditions for working families of Idaho and says he'll support small businesses.
District 4, Senate
Incumbent state Sen. Mary Souza has worked as a critical care registered nurse, a nursing instructor and a small business owner. Last session, she supported bills that made certain public records from school districts accessible. She also supported bills that attempted to improve low voter turnout in school board elections and improve the foster care system.
Democratic challenger Cory Jane English is a physical therapist in Coeur d'Alene. She's made supporting education, expanding access to health care and fairer wages priorities in her campaign. She's the wife of Dan English, a Coeur d'Alene city councilman, and has been his "silent partner" during his runs for office.
District 4, House
Jim Addis is a Republican, a Coeur d'Alene small businessman and a proud member of the National Rifle Association. He's seeking the House seat currently held by Rep. Luke Malek, who lost in his bid for Congress. Addis wants Idaho to manage federal lands in Idaho, and he wants to expand access to affordable health care.
Rebecca Schroeder, a Democrat, is all about expanding Medicaid in Idaho. She's served as the Idaho State Advocacy chair for the Cystic Fibrosis Foundation, and then was co-chair for the foundation nationally. She wants higher wages for Idahoans and she wants to invest more into education.
District 4, House
Incumbent Republican Paul Amador is seeking another term in the Idaho House of Representatives after winning the seat in 2016. He wants to invest in education, but he also advocates for "higher expectations" of students, teachers and administrators in schools, he says on his website. He also wants to focus on competition and transparent pricing for health care.
Democratic challenger Shem Hanks, meanwhile, supports Medicaid expansion in Idaho. Hanks is focusing his campaign on fighting for the working class of Coeur d'Alene, advocating for higher wages for Idaho workers and ending "Right to Work" in Idaho. He wants to invest more in education, including funding preschool education (WILSON CRISCIONE). ♦

IDAHO GOVERNOR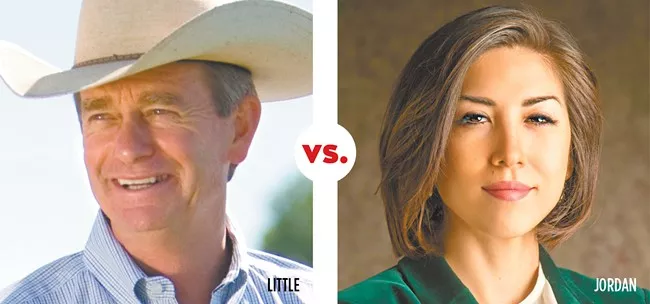 In the open race for Idaho's governor, Republican Lt. Gov. Brad Little faces Democratic Rep. Paulette Jordan, both of whom opted to leave their seats to run for the state's highest office.
Jordan, a two-term representative serving Latah and Benewah counties, previously served on the Coeur d'Alene Tribal Council and would be the first female governor in Idaho, and the first Native American governor in the country if elected. She grew up in rural North Idaho and her family history in the area goes back thousands of years.
Little has served as lieutenant governor since 2009, and had previously served in the state Senate since 2001. He's a third-generation Idahoan, part of a longtime ranching family. He turned over his ranch operation in Emmett, Idaho, to a son once he became lieutenant governor.
Jordan supports Medicaid expansion, which is also on the ballot, while Little has said he'll support the will of the people however the vote goes.
Both say the state needs to improve education and pay teachers more, with Jordan emphasizing investment in preschool and higher education, while Little is emphasizing career-technical education and vocational training.
Little believes marriage should only be between a man and woman, while Jordan supports marriage equality regardless of sexual orientation. (SAMANTHA WOHLFEIL)

IDAHO'S 1ST CONGRESSIONAL DISTRICT


Facing off in the open race for the U.S. House seat that Republican Rep. Raúl Labrador left to mount his unsuccessful gubernatorial campaign are Republican Russ Fulcher, former state Senate majority caucus leader, and Democrat Cristina McNeil, a real estate agent.
Fulcher, a former tech executive, has said he'd likely carry on much the way Labrador did, and is endorsed by the far-right House Freedom Caucus.
McNeil, a business owner and dual citizen of the U.S. and Mexico, wants to focus on health care, education and immigration reform.
Five other candidates are also on the ballot for the race, including W. Scott Howard, Gordon Counsil, Paul Farmer, Natalie Fleming and one man who legally changed his name to Pro-Life. (SW)
PROPOSITION 1, "HISTORICAL HORSE RACING"
Should Idaho legalize slot-machine-style video gambling machines exclusively on certain race tracks in order to help those horse-racing tracks survive? You may have heard that these "historical horse-racing" machines allow gamblers to wager on past horse races without knowing the outcome. That's the premise that the Idaho Legislature was sold on in 2013 before they concluded, two years later, that they'd been duped: Most of the machines only include the horse racing in a tiny window below the flashing lights, spinning slots and bonus rounds of the main video screen.
But now, horse racing advocates are trying to convince Idaho voters to restore the legality of these gaming machines, arguing that it's the only way to keep the horse-racing industry alive. (DANIEL WALTERS)
PROPOSITION 2, IDAHO'S GAP YEAR
Picture a bridge that only goes halfway across a river. Now picture 62,000 cars with Idaho license plates plunging into the water. That, metaphorically, is what happened when Idaho decided not to take Medicaid expansion. Since Obamacare was designed to assume that every state would take federal aid to expand Medicaid, tens of thousands of low-income Idahoans have been stuck in this surreal space where they make slightly too much to get Medicaid, but yet don't make enough to get Obamacare's health care subsidies.
Idaho's Proposition 2 would do what states like Montana, Washington and Oregon have done and expand Medicaid. Idaho is passing up federal aid to help sick people, supporters say. Opponents argue that, even though 90 percent of the Medicaid expansion would be paid by the federal government, tax money is still tax money, and the cost of expanding health care has to be paid for by somebody. (DW)