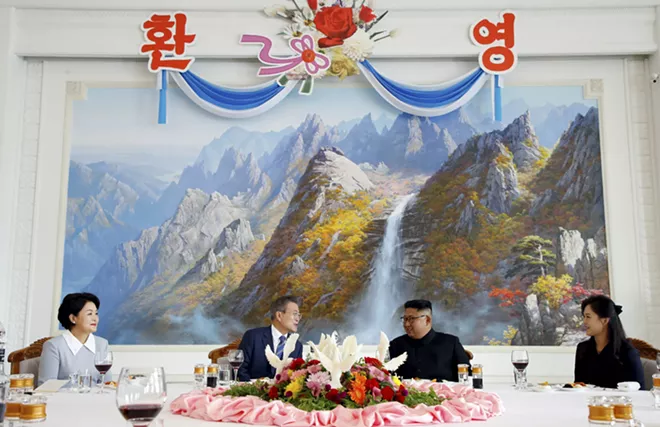 By Choe Sang-Hun
New York Times News Service
S
EOUL, South Korea —
Kim Jong Un, North Korea's leader, finally committed Wednesday to some concrete steps toward denuclearization — most notably an offer to "permanently dismantle" facilities that are central to the production of fuel for nuclear warheads — but they fell far short of what U.S. officials have demanded.
On the second day of his summit meeting with President Moon Jae-in of South Korea, Kim signed a series of agreements aimed at easing tensions between the two countries, like stopping military exercises and creating no-fly zones near their shared border. Kim also promised to visit Seoul, the South Korean capital, which would make him the first North Korean leader to make such a trip.
But more eye-catching to Washington was his promise to dismantle a missile engine-test facility and a missile launchpad in northwest North Korea that have been essential to the country's development of intercontinental ballistic missiles, and invite outside experts to watch.
In return, Kim has demanded "corresponding" measures from the United States, like declaring a formal end to the 1950-53 Korean War, which was halted only with a truce. In return, he has proposed to "permanently dismantle" the Yongbyon nuclear complex, the heart of his country's nuclear program, among other steps.
The offers Kim made Wednesday indicated he was willing to curtail his country's ability to produce more nuclear warheads and ICBMs.
But they say little about what he will do with his existing arsenal. Kim's ultimate goal, analysts say, is to make the Trump administration complacent enough about the recent détente to ease sanctions in return for a mere freeze — not the dismantlement — of North Korea's nuclear weapons programs.
"No matter how hard I look, I can find no real progress in denuclearization in today's announcements," said Cheon Seong-whun, an analyst at the Asan Institute for Policy Studies.
South Korean officials cautioned Kim and Moon did not include some ideas they had discussed in the official agreements, leaving them for negotiations between the North and the United States. Moon, who is scheduled to brief President Donald Trump next week, sounded optimistic. So did Trump, who has been preparing for a second meeting with Kim despite the reservations of his hard-line aides.