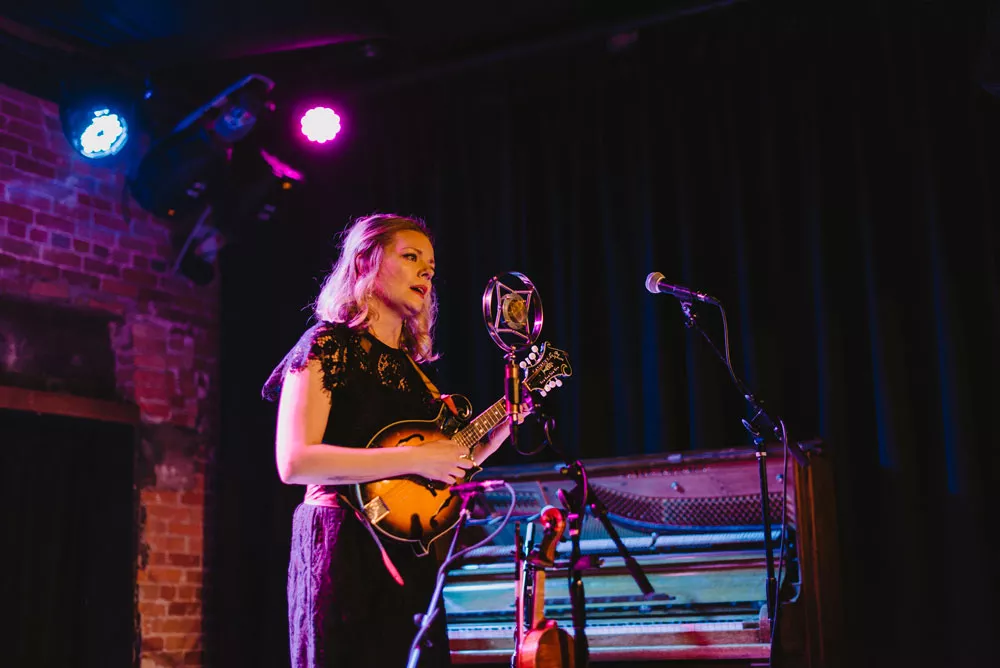 You could call Northwest of Nashville a concert, or perhaps a variety show. The monthly showcase based largely around acoustic music defies easy genre categorization among the musicians who've appeared, and the occasional poetry reading or storytelling aside makes it an altogether different kind of show in Spokane.
Entering its third season on The Bartlett stage, the Northwest of Nashville shows, organized and hosted by singer-songwriter and fiddling ace Jenny Anne Mannan, might stretch themselves in even more directions in the coming months, she says.
"One of the things we've talked about is having more comedic or dramatic elements, recurring characters, things that you might see on a Hee Haw-type show," Mannan says.
While regulars might have to wait a while for that to develop, they'll definitely notice one prominent new aspect of the show — the presence of a regular Northwest of Nashville band, "a regular rotation of musicians who are not just there as guests but are there as a band for me and are available as a band for other artists to collaborate with," Mannan says.
The backing band might change show to show, depending on whether that night's entertainment leans more toward bluegrass, or country, or folk, but chances are you'll recognize players like Duane Becker, Karli Ingersoll and Justin Landis from their various projects around town.
Mannan is excited by the possibilities a regular house band will bring to the shows, and notes that people are now coming to Northwest of Nashville events regardless of the night's featured entertainment.
"I'm happy to see that it doesn't really matter who's playing," Mannan says. "The show has its own draw and has built up its own following."
Another rewarding aspect for Mannan, who moved back to Spokane from Nashville shortly before launching the concert series, is the growth she's seen in local music, and the sense that musicians and audiences are discovering new things about Spokane and its artists all the time.
"What I really love exposing people to is the spirit of community and collaboration that I think is really the heart of bluegrass music and folk music," Mannan says. "People listen to each other, they play on each other's stuff. It's a very communal experience, even between the performers and the audience. ♦
Northwest of Nashville feat. Jenny Anne Mannan, Native Harrow, The Riverside, Dylan Hathaway, Kevin Pace & The Early Edition • Tue, Feb. 27, at 7 pm • $10 • All ages • The Bartlett • 228 W. Sprague Ave. • thebartlettspokane.com • 747-2174