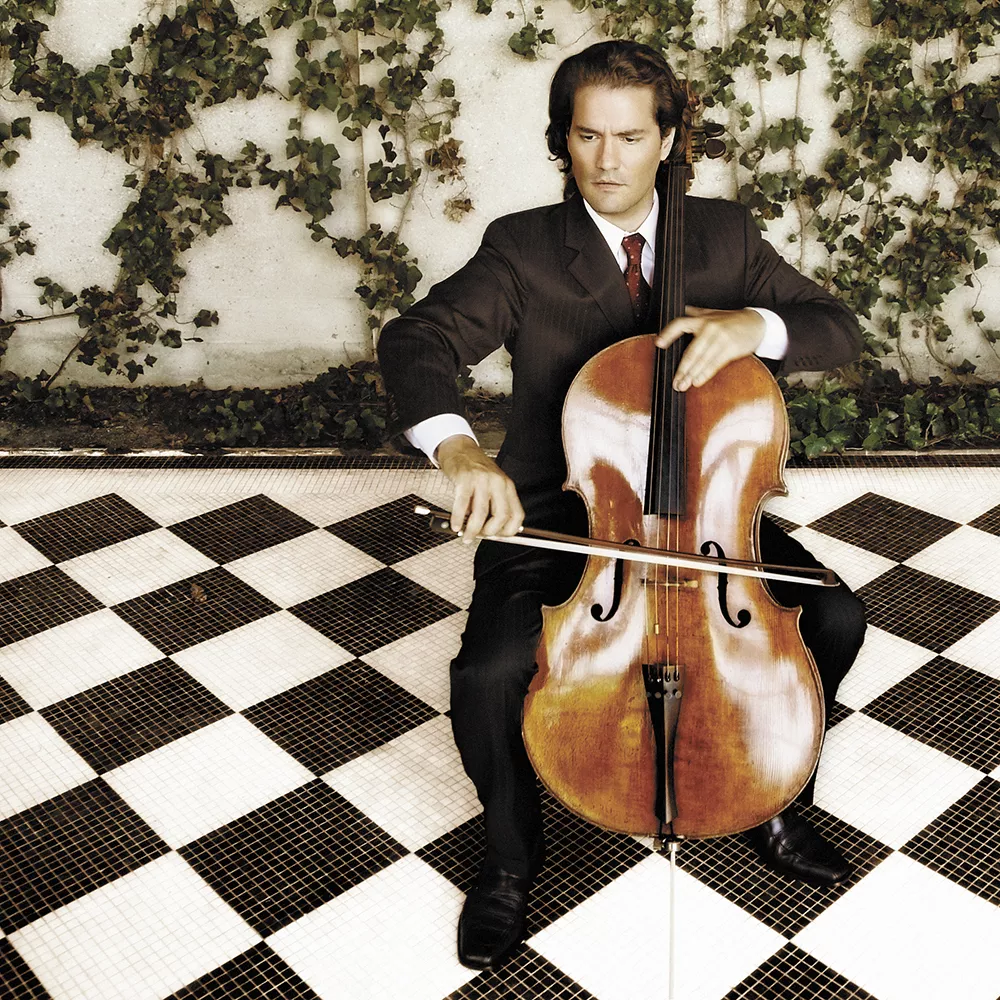 The entrancing music pours into your soul, surrounding you like a warm summer evening. Listening to Johann Sebastian Bach's unaccompanied Cello Suites is as much a spiritual awakening today as when first performed in the early 1700s.
Artistic director Zuill Bailey intends to play all six of the Cello Suites for the Northwest Bach Festival — this year, showcasing one Suite at six different locations — but that's just skimming the surface. For the first time in its 36-year history, the festival, running from Feb. 25 through March 9, has swelled to a two-week affair that includes 25 events instead of four or five. With film viewings and wine tastings added, the program culminates with the world release of the album Some Other Time, a collaboration between pianist Lara Downes and Bailey. In his first season at the helm, Bailey plans to help continue Bach's legacy for a new generation to appreciate.
If the cellist appears busy, it's because he is. Along with being artistic director of El Paso Pro Musica and Alaska's Sitka Summer Music Festival and Series, there's the teaching gig at the University of Texas at El Paso and a recent album, Britten: Cello Symphony & Sonata, currently a Top 10 release on the Billboard classical music charts.
"To be honest, this is the speed at which I run. I'm the most comfortable at this pace," he says before a performance in Alaska last week.
The Bach Festival is a top priority for Bailey. Along with the new events, the main shows feature solo classical talent, instead of a local orchestra as in years past.
"For one's first festival, one has to create a different kind of fingerprint," Bailey explains. "Gunther Schuller and the Bach Festival, they've established quality for so long. I wanted to show something different the first year."
Violinist Rachel Barton Pine is firmly entrenched in Team Bach. In a contest with Mozart and Beethoven, Barton Pine says Bach's continued influence in music reigns supreme. But for her upcoming performance at the Bach Festival, she won't be playing his works at all, opting rather for the complete Paganini Caprices for Solo Violin.
"Paganini knew Bach's unaccompanied works, so there was that general influence in his music," explains the former child prodigy from her home in Chicago.
A beast in the instrument's repertoire, most musicians do not perform all 24 caprices in one concert.
"It's pretty darn difficult," Barton Pine says. "For many years now I've been playing these in a single evening. I know I can do it."
Paganini's athletic, fiery compositions, especially "Caprice No. 24," are so impressive it's clear how they relate to Barton Pine's other musical passion, heavy metal.
"When I was 20 years old, I was trying to find new ways to reach out to fellow rock fans," says Barton Pine, who plays electric violin in the metal band Earthen Grave. "I prove you can have both classical and metal in your life."
Along with Barton Pine, outside soloists for the Bach Festival include pianists Piers Lane, performing the complete Chopin Nocturnes, and Downes with a concert titled Bach to Brubeck.
For Bailey, it's all right that not all of the event's music will be Bach's or even from the Baroque period — everything still comes back to Bach.
"Chopin loved him. Paganini spanned from Bach. It's all based on the different take of Bach," Bailey says."
Gertrude Harvey, executive director for Connoisseur Concerts, the nonprofit organization that presents the festival, shares a passion for the prolific composer.
"It's incredible for any community to have a Bach Festival. It should be a point of pride," says Harvey, who has been with the organization more than 20 years. "We know it's not rock music that we're doing, so we know there's a segment that's not going to be as interested. But if they came, they'd probably like it."
Looking forward, Harvey says it's about moving the series to a year-round format with more of a cultural influence.
"We're looking to expand geographically, as well as the calendar," Harvey says. "The point is to build the festival so it's not just an isolated event."
Bailey has already played a regional tour this winter, reaching people who wouldn't necessarily travel to Spokane for classical music. With each year, Bailey plans to change up the Bach Festival format, meaning the local orchestra and chorale will likely be back. But this year is his starting point.
"These are event concerts this year," Bailey says. "You'll walk in and walk out changed."♦
Northwest Bach Festival • Tue, Feb. 25-Sun, March 9 at various times • $20 and up • Various locations, Spokane • for a full schedule go to nwbachfest.com • 800-325-SEAT