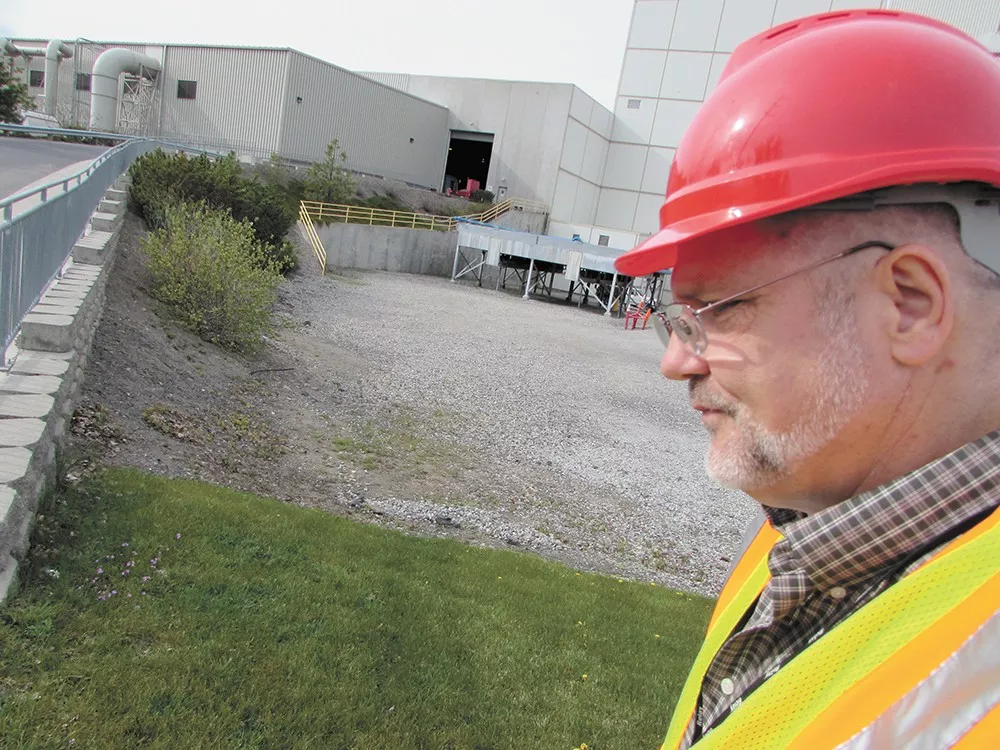 FEELING BURNED
When it comes to greenhouse gases, incinerating garbage in Spokane's WASTE-TO-ENERGY PLANT has far less of an impact on the environment than dumping garbage in a landfill, whereas methane emissions perpetuate climate change at a far faster rate than carbon dioxide.
"We've already saved our state 2.6 million metric tons of CO2 equivalent over the last 25 years," says Marlene Feist, spokeswoman for the city of Spokane utilities department.
But despite several months of lobbying, Spokane's Waste-to-Energy Plant was not exempted from Gov. Jay Inslee's new carbon rules that took effect last week. Facilities that annually pump out more than 100,000 metric tons of carbon dioxide or equivalent gases would need to meet a 5 percent reduction every three years.
If not, those businesses and municipalities would have to pay a fine or purchase carbon "credits" from the market. Currently, Feist says it's unclear exactly what those credits would look like — the Washington State Department of Ecology will approve which credits are valid for the program, but doesn't set up the market. For example, the city of Spokane could pay another facility elsewhere in the state in exchange for that facility reducing its carbon footprint by, say, carpooling or altering its agricultural practices.
Unfortunately, Feist says, some of the projects that Spokane was hoping would qualify for carbon reduction credits weren't allowed under the state's definitions. Planting more trees downtown, for example, does not qualify for carbon credits. The reason, according to the Department of Ecology, is that the goal is to reduce the amount of carbon emissions, not just trap carbon in trees.
"We'd like to see things that would benefit our communities that would be counted as credits," Feist says. "We'd rather spend the money in Spokane for things that are desirable for our citizens rather than buying credits [elsewhere]."
Spokane still has three years to figure out how it will comply with the new program. In the meantime, several lawsuits have been filed against the new rule, including one by Avista and several other utility providers. (DANIEL WALTERS)
CONCUSSION REPERCUSSIONS
Five years ago, former Priest River (Idaho) Lamanna High School football player Bobby Clark COLLAPSED ON THE FIELD. Now, the West Bonner County School District will settle with Clark after his attorneys blamed the district for coaches putting the senior back in the game after he suffered a concussion.
Clark was an offensive and defensive lineman for Priest River Lamanna. He was one of three Spartans players to suffer a concussion in that game, and one of nine players who suffered head injuries in the 2011 season.
After Clark was removed from the game in September 2011, he was put back in by coaches. A couple of plays later, he returned to the sidelines, collapsed and had to be flown to Sacred Heart Medical Center in Spokane, where he was placed on life support. Clark suffered permanent, irreversible disability, according to a lawsuit filed by his family. He was able to graduate from Priest River Lamanna in 2012.
Clark's family sued the school district and helmet manufacturer Riddell in 2013. The helmet company was later dropped from the lawsuit. But this week, the Bonner County Daily Bee reports that the lawsuit Clark's family filed against the school district is being settled for an undisclosed amount.
The lawsuit alleged that Spartans coaches failed to comply with an Idaho requirement for evaluating head injuries before negligently putting Clark back into the game. It sought damages for medical bills, mental suffering and lost earning ability. The trial was scheduled to begin Oct. 25, according to court records, but school district attorneys filed a notice indicating a mediated settlement agreement, and the proceedings were called off. (WILSON CRISCIONE)