The pilsner buzz might have lasted longer than some of the area celebrations of Oktoberfest, but fear not, liebchen, opportunities to celebrate German culture are plentiful in the Inland Northwest. So if you got a taste for German cuisine this fall, you're not out of luck.
Vas ist das Oktoberfest? Officially, it started in 1810 as a really, really big 16-day wedding celebration (lengthened to 17 days in 1994) honoring the wedding of Germany's King Ludwig the First. Basically, all of Munich was invited, consuming much food and drink, but also listening and dancing to traditional music, playing games and just generally having one uber huge party.
The party actually kicks off in September, counting back 17 days from the first Sunday in October. So when the town of Odessa, Washington, celebrated its popular Deutschesfest this year (Sept. 19-21), it was right on schedule. As was Daanen's Delicatessen in Hayden, Idaho (Sept. 27) during the annual free event they've hosted for 21 years.
Ditto for most of the other Oktoberfests in the area — Harrison, Coeur d'Alene, Post Falls, Priest River, Sandpoint, even Spokane, which recently renamed their event the Inland Northwest Craft Beer Festival. Places like Leavenworth are pushing it darn close to Halloween, but you can hardly blame them for wanting to put a little more oomph in the oom-pah season best known for its accordion music, lederhosen (or dirndls), brats and beer.
The same Bavarian-style bratwurst you'd find in Leavenworth is sold at Daanen's Delicatessen (8049 N. Wayne Dr. in Hayden) for dine-in or takeout. From the deli menu, try a bratwurst plate featuring zesty warm German potato salad and tangy sauerkraut ($6.95). Or buy bratwurst by the pound ($8.99) or other deli meats and cheeses and pair them with a mix-and-match six-pack selected from about 250 different beers. Friday night specials rotate — veal schnitzel, Königsberger klopse (savory meatballs in lemon caper sauce), rouladen (beef rolled and stuffed with onion, bacon and pickles) — as do the beer taps.
Jens Kuehl, a graduate of Inland Northwest Culinary Academy and a man of German heritage, recommended an unlikely location for wurst (sausage): the 29th Avenue Super 1 (830 E. 29th). They make their own bratwurst ($5.98/lb.), bockwurst with ground veal, green onion and parsley, and a whole host of other meats.
In Spokane, Alpine Deli (417 E. Third) combines cuisine from Germany, Austria and Bosnia. In addition to your spaetzle noodles, you can sample cevapi, a Bosnian meat dish, while Reflections Kaffee Haus (618 W. Riverside, #200) currently features a schnitzel sandwich ($8.95) with an unusual sweet curry sauce.
For another year-round venue, check out Das Stein Haus (1812 W. Francis). They also make their own bratwurst, as well as several kinds of schnitzel ($12.95/$15.95): Jager, meaning hunter, with brown mushroom and onion gravy; Zigeuner or Gypsy style, with onions, peppers and paprika; even hybrid versions such as the Hawaiian with Swiss cheese, pineapple and ham.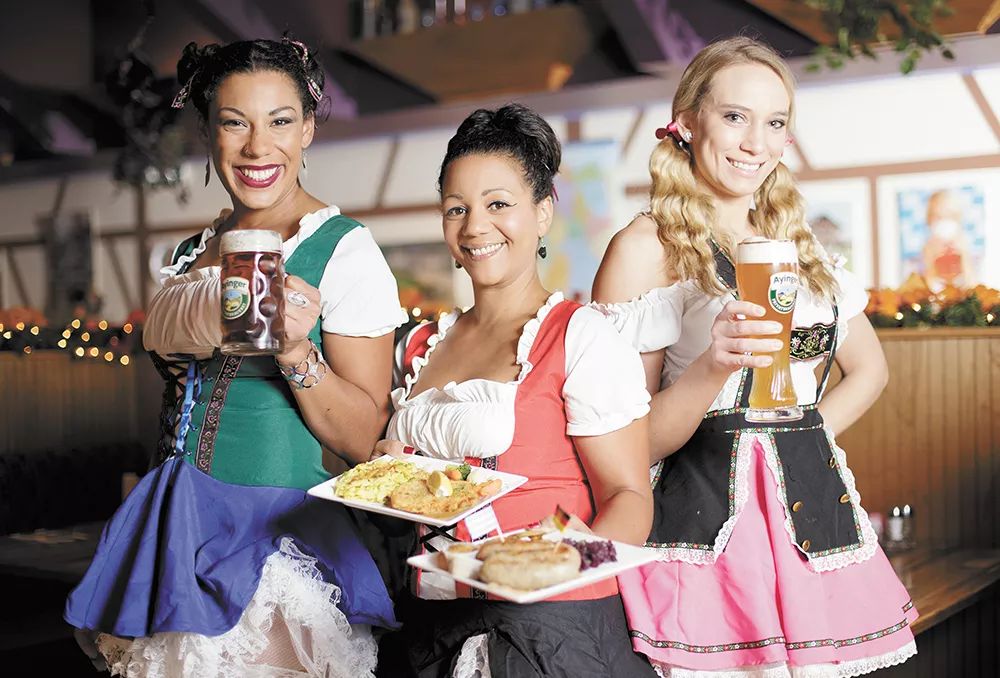 Das Stein Haus celebrates the whole month of October with weekly live music, drink specials, and their already adorable servers dressed up in even more adorably in traditional dirndl — skirt, apron, a peasant-style blouse and an, uh, uplifting vest (picture St. Pauli Girl beer). German food specialties include Pfeffersteak ($20.95) with a cream and green peppercorn sauce and meat-stuffed cabbage rolls called Krautwickel ($10.95), while the non-German specialties read like a United Nations roll call: quesadillas, beef stroganoff, prawns tempura.
The biggest sellers? Bratwurst and schnitzel, says manager Stacy Hayes of the popularity of German food. "We get a lot of military who spent time there," she says.
Of course, German beer is a big draw at Das Stein Haus and elsewhere across the Inland Northwest, so if you're feeling a little verkatert (hung over) from sampling, try one of the hearty breakfasts at Old European (locations in Post Falls, Pullman and Spokane) to get you feeling gesund (healthy) in a jiffy. Their multi-page menu covers the continent from Hungary to Sweden to Denmark to Germany, represented by potato pancakes with spicy sausage and applesauce ($7.99). Ask for that and ein Kaffee, bitte, and you're well on your way back to feeling wunderbahr. ♦