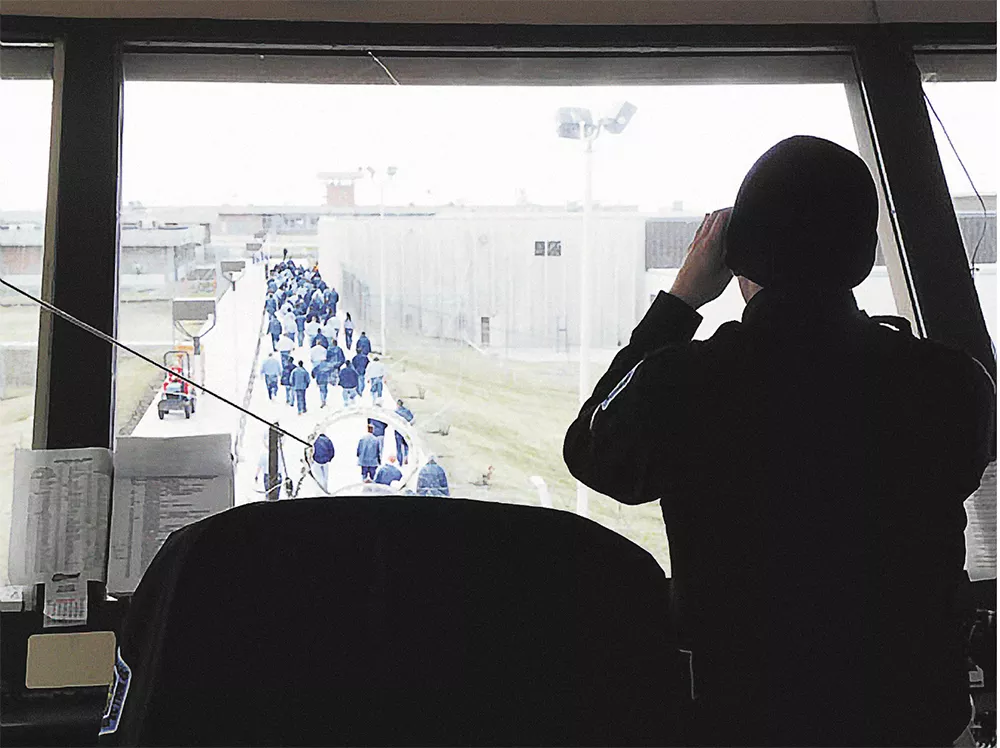 Idaho is poised for yet another prison scandal. In the wake of a 2013 investigation, which revealed that the Corrections Corporation of America had falsified documents to cover up thousands of hours of understaffing at the Idaho State Correctional Center, the company agreed to pay a $1 million settlement and slink away from Idaho's failed private prison experiment.
Now, it's the Idaho Department of Correction (IDOC) that is under fire. On July 22-23, the department will be brought to federal court to face allegations that it "continued to destroy, falsify and otherwise alter medical records" of inmates inside the state of Idaho's prison complex. Officials are also being accused of a systematic "cover-up," including manipulation of court-ordered oversight of mental health care at the prison, located outside of Boise.
"I hope [U.S. District] Judge Lynn Winmill tears the roof off the place, spills everything out and sends a team of forensic auditors into the prison," says attorney Andrew Schoppe, representing a former clinician-turned-whistleblower. "I think it's just a matter of time for us to see who on the inside of the Department of Correction will turn state's evidence first, and starts telling everything."
One official is already on her way out the door. Shell Wamble-Fisher, a former deputy warden at the Idaho State Correctional Institution and current IDOC clinical supervisor, has informed the state that she would be retiring from her post on Saturday, Aug. 1, as part of a "personal action request."
According to court documents, including depositions from clinicians and IDOC officials, six inmates are preparing to testify in federal court next week that their medical records — some requesting that they be diagnosed with "gender identity disorder" — were tampered with in order to save the state from having to provide treatment. The allegations don't end there.
The most telling reaction to news of the federal hearing came from someone who, up until just a few months ago, was responsible for the integrity of information recorded and disseminated at the Idaho Department of Correction.
"This is no surprise," Michael Chacon, an IDOC business analyst from May 2012 to April 2015, says in a prepared statement. "Top IDOC leadership has been informed of this behavior many times and their squelching of information remains alive and well. It is sad that exceptionally dedicated ... staff are afraid to speak out."
There had been media reports, primarily from the Associated Press in February, when Andrew Schoppe's client, Diana Canfield, a former IDOC employee and mental health care provider at the prison, alleged that her superiors had altered or even scrubbed some of the medical notes that Canfield had written in prisoners' health records.
Ultimately, Canfield said she had been forced to resign and was accused of altering the records. Canfield insisted that the exact opposite was true — that her superiors were responsible for the destruction of records. In March, an Ada County Court jury agreed with Canfield in her suit against the IDOC, awarding her $78,000.
"That's $3,000 in lost wages and $75,000 for the hell she went through," says Schoppe. "But I can tell you that we're not over just yet. The state of Idaho has already filed a motion for a reduced judgment. The state ... they tend to fight things to the death."
Canfield will face the state again on July 22, this time in federal court, when she returns to Idaho — she has since moved out of state — to repeat her story in U.S. District Court. That hearing will be the latest chapter in the decades-long Balla vs. State of Idaho lawsuit. Balla is Walter Balla, a former Idaho prisoner who first alleged overcrowding and poor access to medical care in 1981, triggering a federal lawsuit that resulted in a 2011 federal court order to appoint a so-called "special master" to investigate the delivery of medical and mental health care at the Idaho State Correctional Institution. That "special master" is Marc Stern, a Seattle-based teacher, researcher and former Health Service director for the Washington State Department of Corrections.
"But recently, in February 2015, plaintiffs learned of allegations that Dr. Stern's report was intentionally tainted and undermined by the actions and conduct of IDOC," reads a June 22 court filing from attorneys representing plaintiffs in their legal battle against the state of Idaho. "Plaintiffs have since investigated and confirmed that the allegations are true. While Dr. Stern believed he was afforded unfettered access to people, places and documents during his visits to ISCI, he was not. IDOC misrepresented the true conditions at [the Idaho State Correctional Institution] in an attempt to mislead Dr. Stern."
Attorneys allege that IDOC played "musical cells" in the prison's Behavioral Health Unit and prevented certain inmates from speaking with Stern during his investigative visits to the prison.
The case has caught the attention of at least one Idaho lawmaker.
"I plan to speak with the Idaho attorney general's office. I've got a lot of questions," says Idaho Rep. Melissa Wintrow, a member of the Idaho House Judiciary, Rules and Administration Committee.
Still another revelation came from Armida Molina-Medina, a designated examiner with the Idaho Department of Health and Welfare, who in a June deposition said that then-Deputy Warden Wamble-Fisher had ordered him and fellow clinicians not to document any inmates with gender identity disorder.
According to Molina-Medina, Wamble-Fisher also said that she had gone as far as altering previous inmate medical records, removing any references to GID.
When attorneys asked Molina-Medina about why medical records were altered to remove diagnoses of GID, he testified that Wamble-Fisher said, "Because IDOC would then be forced to provide treatment to those inmates for gender identity disorder-related issues."
One current prison inmate said in a phone interview that he had been attempting to be tested for possible GID diagnosis but has been repeatedly denied.
"I've been trying to get diagnosed for gender identity disorder for years," said the inmate. "But I've been told the Idaho Department of Correction simply doesn't want me to be considered GID."
Another inmate said guards had recently been ordered to remove bras, panties and makeup from certain transgender prisoners at the Idaho State Correctional Institution.
"An attorney came down to the prison to talk to six of us," the inmate says. "So we're getting ready to speak before the court on July 22. Honestly, I'm worried that if I testify, they may revoke my chance of parole. I'm coming up before the parole board in six months. But we have to tell the truth." ♦
Send comments to editor@inlander.com. A version of this story first appeared in the Boise Weekly.