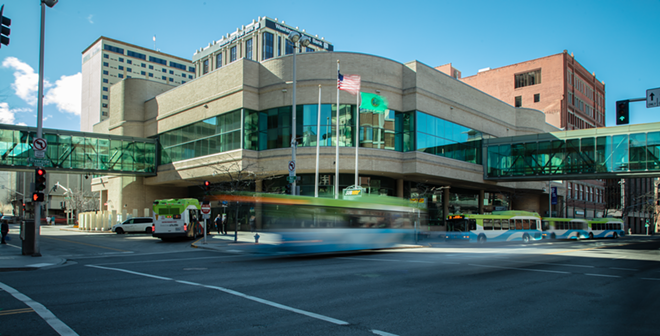 Much of Nadine Woodward's mayoral campaign has been about tying problems downtown to the City Council, charging that the council "just can't get a handle on how to address homelessness."

But in a 25-minute one-on-one interview with the
Inlander,
Woodward argued that her top priority was to reverse a controversial decision made by Mayor David Condon's administration.
"My number one priority as mayor is to relocate a police precinct back into the heart of downtown," Woodward says. "It was there a couple years ago."
<!————————————————————StartFragment————————————————————>
In late 2015, the Condon administration moved the downtown police precinct from the building attached to the Spokane Transit Authority Plaza to the Intermodal Center, a half mile east. It was a move objected to by City Council President Ben Stuckart, the Downtown Spokane Partnership, and the
police captain of the downtown precinct
. And it's a move Woodward wants to undo.
<!————————————————————StartFragment————————————————————>
"I wouldn't have done it," Woodward says. "I want to move it back. ... I think it will have an extremely effective impact on what we're seeing downtown."
Woodward doesn't have an exact location picked out. But she says if the precinct returned to the STA Plaza, it would be great.
"There's a lot of sex trafficking going on there at the STA Plaza," Woodward says. "In fact, that's where a lot of the calls for police end up."
Woodward has previously taken heat — and praise — for painting the downtown library as
unsafe
, and for expressing openness to banning the homeless from the library as a potential solution to drug use at the library. By now invoking the explosive issue of "sex trafficking" at the STA Plaza — which conjures images of locked basements, modern slavery and action movies like
Taken —
Woodward is potentially wading into a new controversy.
And it's a claim that took STA officials off-guard. STA spokesman Brandon Rapez-Betty says the transit agency has 25 security personnel and 72 cameras at the Plaza. Yet if there's
ever
been an incident of sex trafficking at the STA Plaza, STA is unaware of it.
"Regarding the claim that 'there is a lot of sex trafficking happening at the Plaza,' there is not information, statistics or evidence to support it," Rapez-Betty writes in an email. "STA security personnel meticulously report all incidents at the downtown transit center and there are no reports or incidents of human (or sex) trafficking."
STA hosts a monthly meeting called the Downtown Security Group, which includes law enforcement and security officers from throughout the community. And he says the question of sex trafficking activity at the Plaza has never come up. Downtown Spokane Partnership president Mark Richard says he hadn't heard of the allegation either.
Asked how much sex trafficking happens at the STA Plaza, Woodward didn't have specifics, instead saying she got her information from the Spokane Regional Safe Streets Task Force.
"Oh, I can't tell you how much it's happening. But I can tell you that I've talked to officers with the Safe Streets Task Force, and they'll tell you that there's a lot of sex trafficking going on at the STA Plaza," Woodward says. "I don't have numbers. But they tell me and I believe them because they're the ones doing the work."
The
Inlander
spoke to officers at the Spokane Police Department, the Sheriff's Office and the Washington State Patrol, and none of them identified any open cases involving sex trafficking at the STA Plaza.
That doesn't mean there haven't ever been any valid concerns, however.
"There's an explosion of sex trafficking going on everywhere in Spokane," says Spokane Police Capt. Brad Arleth.
After talking with the Safe Streets Task Force, Arleth reports there have been a number of tips about sex trafficking downtown, including at the STA Plaza. But he doesn't have evidence that tips associated with the Plaza are higher than other locations.
Arleth says SPD has conducted surveillance looking for sex trafficking at the Plaza in the past — along with other places and events that might draw young people, like Hoopfest and the Lilac Parade. After all, places where vulnerable young people congregate can theoretically be targeted by sex traffickers looking to groom victims. But ultimately, Arleth says, they've never made any sex trafficking arrests at the Plaza. <!—————————EndFragment—————————>
Similarly,
Erin Williams Hueter, executive director of the Inland Northwest's Lutheran Community Services, a nonprofit that works with trafficking victims,
is unaware of anything suggesting sex traffickers were using the STA Plaza to target or recruit victims.
<!—————————————————StartFragment—————————————————>
"I have not heard of anybody being recruited at the STA Plaza," Williams Hueter says.
"I haven't heard of a lot of prostitution in general happening at the Plaza. ... I've seen victims that hang out at the Plaza during the day, but that doesn't mean they're selling sex at that location."
Williams Hueter says sex trafficking is a serious and hard-to-track issue. Any time that an underage person exchanges sexual favors for food, money or a place to stay is considered sex trafficking. Yet the conversation about the issue is often infected by shoddy
stats, impossible to check claims
and
wild conspiracy theories
.
"We don't have any data on prevalence that's reliable," says Williams Hueter.
Sex-trafficking victims are sometimes homeless, and homeless people often seek out shelter in the Plaza as a place to get warm. It's quite possible that trafficking occurs there, Williams Hueter says, but also at schools, clubs, malls — anywhere young people hang out. She says she's seen a lot more relationships that begin at the Plaza slide into domestic violence than anything concerning sex trafficking.
And Rapez-Betty stresses that, one particularly vulnerable population — young runaways — actually avoid the Plaza.
"Runaways often won't come to the Plaza, because they know if they're spotted at the Plaza, SPD will pick them up," Rapez Betty says.
With regard to sex trafficking, Arleth says, the bigger danger isn't the Plaza or anywhere else specific downtown. It's the internet. Increasingly, traffickers are targeting people using social media apps.
"It's social media. It's Instagram, it's Facebook, it's Snapchat," Arleth says. "The location isn't probably so important."
Still, STA officials take sex trafficking seriously. Rapez-Betty says STA security guards are trained to
spot the signs
of human trafficking.
Before the Plaza was renovated, the Plaza bathrooms had posters letting victims know of a hotline to call if they were being trafficked. Rapez-Betty says STA now has plans to put them back up.
WHAT CALLS FOR SERVICE CAN'T TELL YOU

<!—————————StartFragment—————————>
This is hardly the first time the STA Plaza has been the subject of controversy. In 2012, when the STA shut down its smoking area due to construction, smokers flooded outside nearby businesses. Business owners complained and even hired security guards. In 2014, a stabbing at the Plaza again
ignited debate
. Some even suggested that the STA be located to, well, the Intermodal Center. Instead, STA doubled down and renovated the Plaza, with an eye toward safety. The new design opened up sight lines and concentrated the public on the first floor, making it easier for security officers to keep an eye on the thousands of patrons who stream through every day.
And the evidence suggests that it worked. Despite the police precinct being moved away from the Plaza, and despite Woodward's (
debatable
) argument that there's been an exponential increase in crime downtown in the last few years, reported security incidents have plummeted at the Plaza.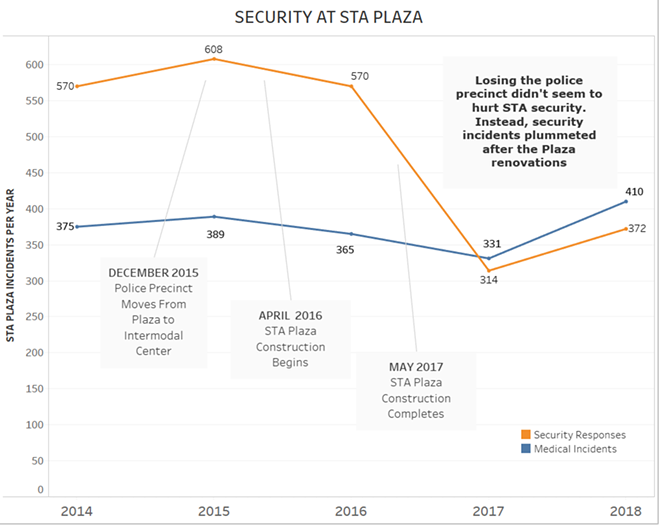 A
Spokesman-Review
article last month cited 641 calls for service at the STA Plaza this year already. But as with the calls for service at the
downtown library
and the teen shelter Crosswalk, those numbers are deceptive.
As an example, Rapez Betty says, he notes a woman who, after a security guard asked her why she was crying, reported she'd been in a domestic violence situation in North Spokane. But that gets logged as a call for service from the Plaza.
<!———————StartFragment———————>Every time someone else runs to the Plaza to report a crime that happened elsewhere, that gets logged as a call for service at the Plaza.
<!———————StartFragment———————>
"STA security regularly sees people coming to the Plaza from throughout the downtown core seeking help because they know it to be a safe place with a strong security presence," Rapez-Betty says.
Not only that, he says, "if an officer just reports his location, it's listed as a call for service."
Since STA pays the salary of a police officer to patrol near the Plaza, the officer is going to be reporting his location quite a bit. So while there may have been over 600 calls for service at the Plaza, STA's own numbers only show 99 incidents at the Plaza this year — and only 54 resulting in citations or arrests.
That doesn't mean people necessarily feel safe at the Plaza. But Rapez-Betty urges introspection when using terms like "unsafe."
<!———————StartFragment———————>"People equate safety and comfort," Rapez-Betty says. "Make sure you ask yourself, 'Do you feel unsafe or do you feel uncomfortable?' When you find yourself around people who aren't like you, you can find yourself feeling uncomfortable. But that doesn't mean you're unsafe."
Woodward's concerns, however, go beyond the Plaza itself.
"We've seen the crime rate go up and the homeless issue get worse downtown, I'd say
exponentially, in the last two or three years," she says. (Violent crime appeared to spike downtown in 2018, but has been declining this year, while property crime has steadily decreased the past three years.)
LOCATION, LOCATION, LOCATION

Even if the Plaza is safer than it was four years ago, that doesn't mean there aren't other reasons for moving the police precinct to a central location downtown.
<!———————StartFragment———————>"I've talked with law enforcement, I've talked with a lot of officers, some of the special enforcement units, and they want to be downtown," Woodward says. "They want to be more visible. I visited the Intermodal station where it is now on two occasions, back-to-back days, in the middle of the day and there's nobody even there. The booth isn't even open."
<!———————StartFragment———————>Woodward has a personal stake in the issue: Her family's business, Memories By Design, is located in the building above the Baby Bar on First Avenue — closer to the STA Plaza than the Intermodal Center. But it's also worth stressing that her proposal to move it back is supported by a number of community leaders across the political spectrum, including the two city councilmembers representing downtown Spokane.
Liberal Councilman Breean Beggs says he's been championing a precinct move for several years, and not because he believes downtown has become more dangerous.


"I've been coming downtown Spokane since the early '80s," Beggs says. "This is the most vibrant I've ever seen it. Most days, most parts of downtown are fine. If there's anything that's a problem, it's the perception."
Beggs believes that seeing police officers walking around more often might fix that perception.
"The main thing is for people to see more police presence," Beggs says. "You see police, you feel a little better."
<!——————EndFragment——————>
Councilwoman Lori Kinnear, also representing downtown, agrees.
<!————————————————————————————————StartFragment————————————————————————————————>

"Having a presence right downtown would be important," Kinnear says. "Pinpoint where the center of downtown is. It's not the Intermodal."

Yet, ironically, despite his opposition to the original precinct move, mayoral candidate and City Council President Ben Stuckart isn't joining Kinnear and Beggs in their call to reverse the decision. He's not necessarily opposed to moving it back, but he's cautious. He says you can make a case for either location, but that, right now, the city doesn't have to pay rent on the Intermodal Center.
"
I wouldn't be supportive of moving it if it will cost us as much as an officer on the street," Stuckart says, but also says that "if the police chief and the downtown precinct captain wanted it to be moved, I'm not opposed to it."
The issue divides the more conservative mayoral candidates.
• Jonathan Bingle likes the idea. "Whether it makes it more safe, it helps people to feel safe," he says.
• But Shawn Poole suggests it's a waste. "We have a downtown precinct in the heart of downtown. Why waste money moving it?" Poole says in a text. "How about we just staff the existing precinct with more officers?"
• And Kelly Cruz defers to the judgment of the cops.
"I would like a study and some input by the police department about where it would be situated," Cruz says.
Yet considering how politically fraught this issue has been in the past, the police are cautious before weighing in. Downtown precinct Capt. Dave Singley say that it's a decision above his pay grade, but that he does hear the desire for a move from the business community.
"I routinely hear from business owners in particular, they would love to see us located closer to where we were before," Singley says. "They saw a real value in the constant visible presence in that area."
And Police Chief Craig Meidl? He sees the pros and the cons. Sure, businesses near the Plaza would like the precinct closer to them. But the Intermodal Center is also much closer to several homeless shelters, where nearby businesses sometimes desire police presence to deal with their own litany of frustrations.
<!—————StartFragment—————>
"If the new mayor came in and decided to move the precinct to a different location, those businesses near the Intermodal — including those in the Intermodal — would not like that move," Meidl says.