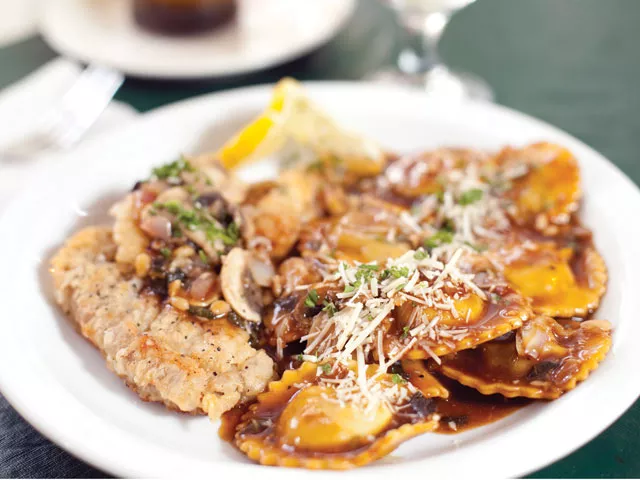 Here`s an age-old scenario that hasn't gone away with the shrinking of the American household: You got a group of hungry people heading out to eat. Each has her own finicky gustatory preferences and no one has a ton of money to go around.
Everyone wants to eat something they'll enjoy, but everyone's also feeling like it might be a good idea to save some money. Do you break the bank on an entrée for each? Or roll the dice, sharing a few family-style?
We say roll the dice, as long as you roll them in the quaint though not stunning Italian-kitsch environs of Mission Bistro. This goes whether your clan is the streamlined 2.6-person contemporary American household, the more robust 4.5-person nuclear family of old, or just a hodgepodge of not-really-related drifters, snobs and food critics, like the group of six The Inlander sponsored last week.
Even before seeing the menu, the place screamed "comfort" — from the just-like-mamma-mia-used-to-decorate furnishings to the low light and back-of-an-Italian-grocery entrance (the restaurant shares the building with Cassano's, with an entrance on the south side). "The whole place… feels like part of a house," Kevin Finch mused.
We were all thinking "family-style" and set about talking out our communal order. Pizza?

Which? "The Mission" ($18)? Great.
We also picked the Antipasto Salad ($8 lunch, $9 dinner), Carl's Famous Lasagna ($11 lunch, $14 dinner) and the peppered ahi tuna steak and gnocchi ($19).
Everyone was in on the communal dining except our resident gadfl -y (every family has one), Joel Smith, who informed the group, "I'm having the veal marsala [with wild mushroom ravioli; dinner only, $19], and I'm not sharing."
We descended like polite vultures when the food arrived, grabbing and passing across the table, an interweaving juggling act of plates and arms.
The lasagna is vegetarian, but its generous layers of marinara, pasta and cheese created a savory strata of fats and carbs that left no one at the table wanting. Not even I felt deprived of meat, despite largely taking after my father — who once, at Mizuna, was incredibly disappointed to find out the "field roast" wasn't a beef product.
Carrie Scozzaro loved the antipasto salad. "I expected traditional antipasto — cold cuts, peppers, cheese, olives. This was an actual salad," she said — meaning a bed of crisp lettuce with a bright, peppery dressing. "The salami was a real standout, somehow creamy-tasting yet still obviously salami. Everything was chopped into reasonable bites."
The signature pizza was quite good, too, mountains of sausage and coppacola ham, mushrooms, onions and black olives over a red sauce and topped with mozzarella and parmesan. The sole caveat was from Scozzaro, who likes her crusts thin and her toppings minimal. She still conceded, however, that it was "hearty and satisfying."
The only thing that felt lacking, in fact, was the one dish that seemed to want to be haute cuisine, the ahi. Scozzaro thought it needed more "punch and crunch." I agreed; the puttanesca flavor retreated, and the texture of the ahi and the gnocchi felt too similar to the tooth. Finch turned up his nose altogether.
The comfort food, though, was uniformly a hit. Even the curmudgeonly Joel Smith came away from the night more pleased than not. He had disappeared just after we sat down to buy two bottles of the exceedingly rare and coveted San Pellegrino flavored with Chinotto, a small, bitter citrus fruit ($1.25). He declared his veal — which, true to word, he didn't share — "soggy and overly wet, but good."
Tammy Marshall, playing the part of the little sister who couldn't make the meal, begged us to pick up a morsel for her, claiming that she "can't go to Cassano's without getting a cannoli," and lauding their formula — "just the right about of ricotta mixed in with chocolate morsels" — as the best such pastry in town. I gave it to her some 12 hours later and, despite its having melted and congealed a bit, she said it retained "all the creamy-sweet flavor I've come to expect."
The six of us ate ourselves comatose, at dinner, for under $100 after tax but before tip. Not bad, and, when all were stuffed, our server quietly scooped up the remaining slice of pizza and about one-third of the antipasto salad for us to take home for later.
And so, the Mission Bistro in Cassano's leapt the final hurdle in any test of family dining, getting passing marks in left-over-ability.

Vegetarian/Vegan/Gluten-Free options: The lasagna, the garden salad ($4.50), and the vegetarian pomodoro are all vegetarian, as are the four cheese ($14) and margherita ($16.50) pizzas. Only the vegetarian pomodoro was vegan. There's no gluten-free pasta option, so diners with wheat diffi culties should stick with the garden salad or the antipasto salad.
*With additional musings by Kevin Finch and Carrie Scozzaro. Ann M. Colford, Kirsten Harrington, Joel Smith and Tammy Marshall (in absentia) played the rest of the "family."