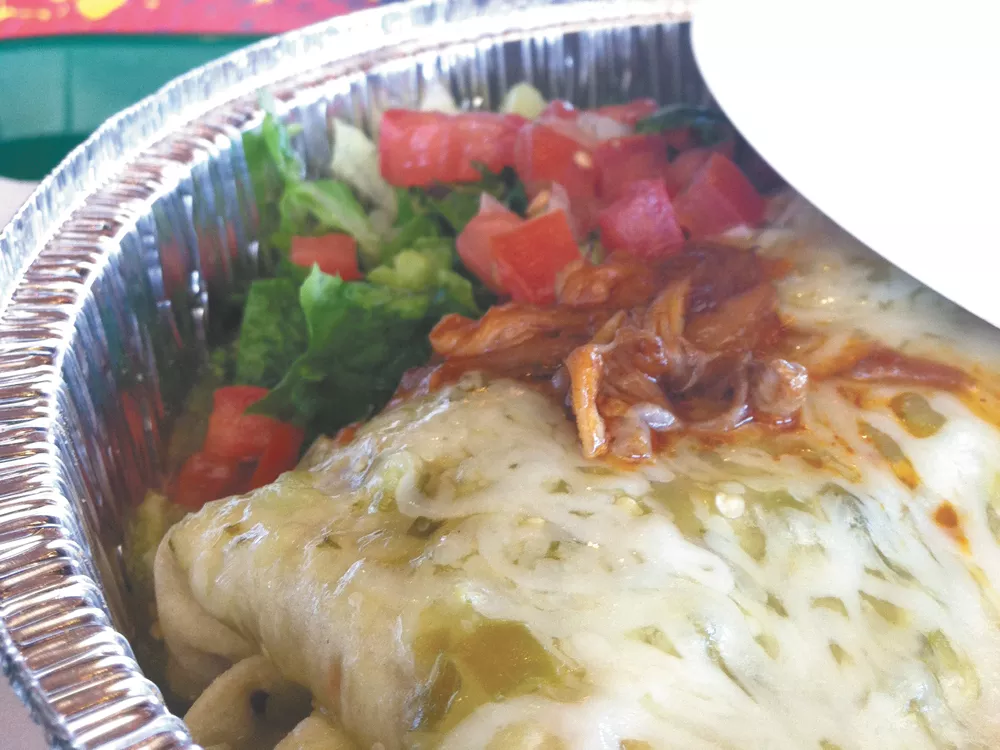 On a scale of casual dining, Coeur d'Alene's new Cafe Rio is somewhere between the convenience and price point of fast food, and the made-to-order appeal of casual chain restaurants like Olive Garden.
It's the familiar seat-yourself dining room (Cafe Rio's is full of artfully mismatched chairs and tables in splashes of kindergarten colors) and serve-yourself drinks. Meals are made-to-order, including tortillas — corn, flour or whole wheat — while you watch. Cafe Rio calls it "quick-casual," and it's a niche market approach akin to Noodle Express and Qdoba.
The result is a definite step above the usual Tex-Mex meals mumbled into drive-thru speakers, with an emphasis on freshness and flavor. The sweet pork barbacoa, for example, is featured in salads ($7.75), burritos ($6.95), tacos and enchiladas ($5.50 single, $7.50 double), and both quesadillas and tostadas ($5.50). It's one of the many award winning menu items in this Zagat-rated restaurant.
My enchilada was stuffed full of tangy pulled pork, a zesty helping of cilantro-lime rice, cheese and tender beans (choice of black or pinto). It's served "enchilada style" for a buck extra with melted cheese and sauce — mild tomatillo, medium-heat Santa Fe green chile or hot San Antonio red chile. A side of fresh, pico de gallo-style salsa adds crunch and brightness to the comforting richness of gooey cheese and soft pork.
Other protein options include chile roast beef, marinated chicken breast and fire-grilled steak or seafood during daily specials. Mondays, for example, feature fish tacos with two corn tortillas and cabbage. Coconut-battered shrimp tacos with mango sauce are available on Tuesdays.
Desserts are all made on-site. There's flan — coconut caramel or chocolate cheese — a slice of lime pie or the traditional Mexican tres leches or "three milks" cake (all $3.95).
You may not have room for dessert, however, with entree-size portions served in a tinfoil tray as if they knew you wouldn't be able to eat it all.
Cafe Rio • 560 W. Kathleen Ave., Coeur d'Alene • Open Mon-Thu, 10:30 am–10 pm; Fri-Sat, 10:30 am-11 pm; Sun, 11 am-9 pm • www.caferio.com • (208) 620-4000