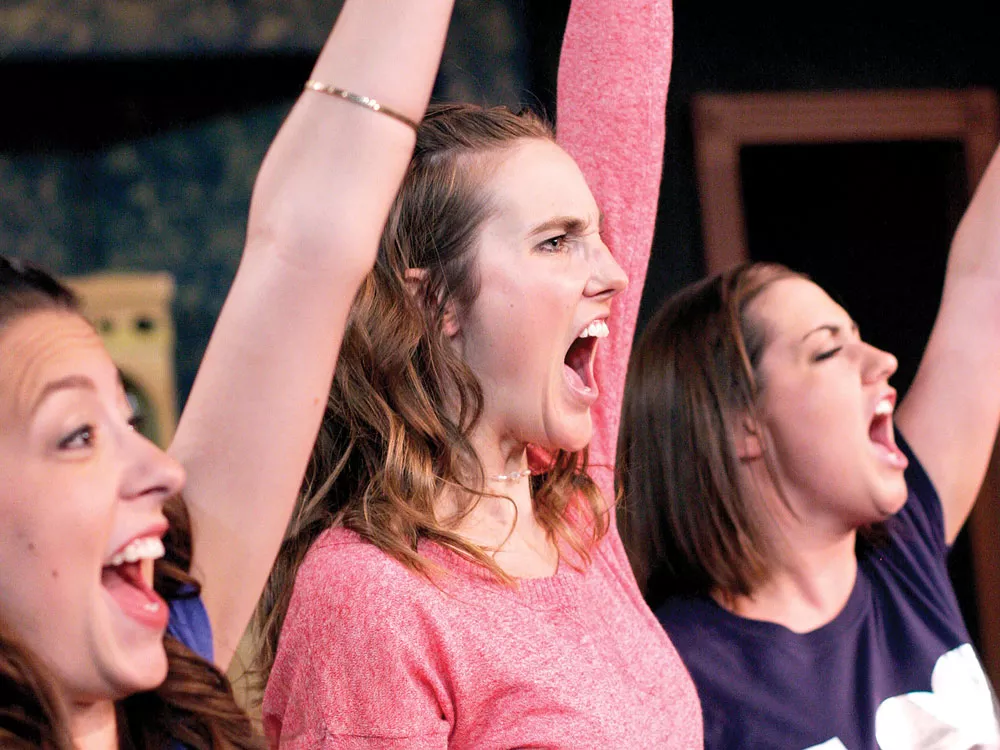 Reed McColm's Together Again for the Next Time (at Interplayers through Sept. 30) is a comedy about two blended, bickering families preparing for a wedding. Mom and her stepdaughter, the bride, want everything to be just perfect; the other adult kids are squabbling over the wedding decorations; Dad's wondering how much this is all going cost; Grandpa and the ex-wife are wondering about how much longer 'till they can get out of here.
It's your typical happy family gathering that's destined, any moment now, to splinter into a family trainwreck.
This sequel to Together Again for the First Time (which Interplayers produced in 2008) adds characters to the original lineup. Max (McColm, who wrote, directed and stars) still has three adult daughters, and his second wife, Audrey, still has two grown sons from a previous marriage. The middle daughter is getting married to a bald vegetarian who can't seem to finish his dissertation; his eccentric mother blows into town to add blunt commentary. Completing this portrait of dysfuncts are Max's ex-wife and ex-father-in-law, sourpusses both.
Next Time features crowd-pleasing humor of the local variety: Gonzaga jokes, white Republican jokes, Spokane airport jokes. McColm also demonstrates several solid comedic techniques. First, there are jokes at the expense of characters whom we never see (making the fictional world seem more real). Then there are allusions, minutes later, to previous punch lines, allowing spectators to laugh with surprised recognition. McColm also knows how to undercut sentiment with humor, with the comedy seeming all the more comic for being plopped in the middle of a warm, fuzzy moment. And he knows when to tell his script just to shut up. In one scene-ending moment, the bride was comically, pathetically isolated. In another sequence, six characters ruminated wordlessly on the unsurpassable pleasure to be obtained from savoring sweet, sticky cupcakes. But this isn't just a fluffy rom-com: McColm studs the action with some high-stakes conflicts, mostly over money. Sometimes, however, marital pasts, career plans and medical problems are debated angrily, then dropped, as if just to ratchet up the tension Lifetime-style.
Opening night brought some acting lapses: missed lines, a lack of volume, flattened jokes. Still, three supporting actors are standouts. As Roger, the elder of Audrey's two sons, Andrew Scott Parish gets to range from snarky humor to shouted defiance. Wendy Carroll plays the mother of the groom with a sly Eastern European accent and a gaudy purse hooked over her arm. (She pats your cheek softly, then targets a zinger right between your eyes.) As Max's depressing ex-wife and mother of the three sisters, Mary Starkey clenches her lips and makes her eyes grow cold. Frustrated and angry, she expects others to share in her feelings.
Next Time is, like the most comforting comedies, laugh-out-loud funny at times and heart-in-throat touching at others. After getting to know characters over two plays (and four hours), you start pulling for them to succeed in all their little schemes and big wedding plans.
We've all been around families just like this, and Next Time offers the comfort of reflecting our own imperfect, amusing selves. Played for laughs and sentiment, it's a pleasing mix.

Together Again for the Next Time will ring wedding bells at Interplayers, 174 S. Howard St., on Wednesdays- Saturdays at 7:30 pm and Sundays at 2 pm through Sept. 30. Tickets: $21 (top). Visit http://www.interplayers.com or call 455-PLAY. For additional photos and a longer version of this review, visit http://stagethrust.blogspot.com. Click here for showtimes.