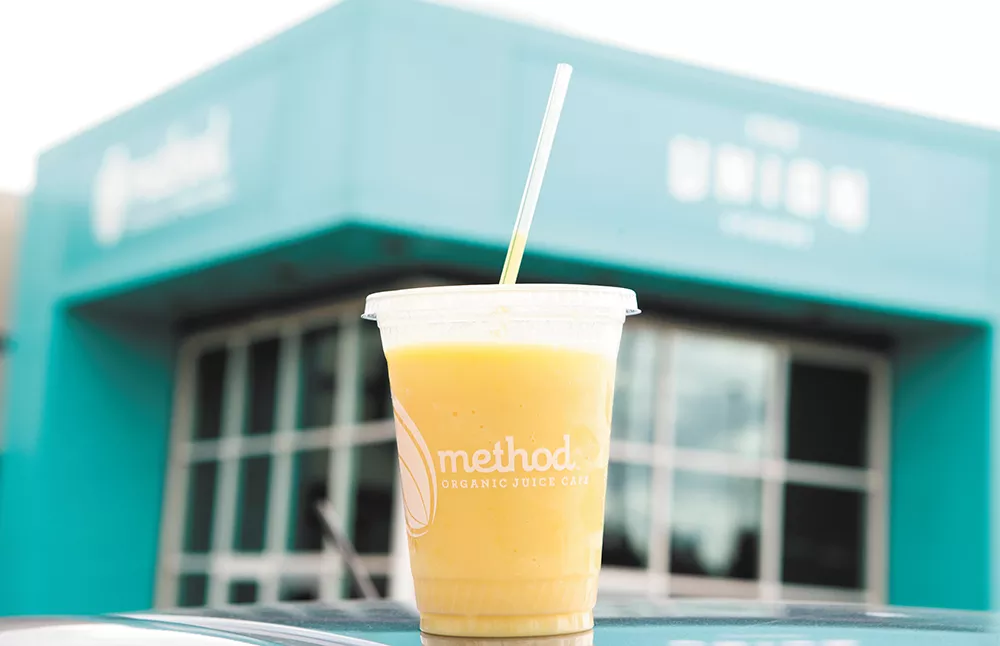 Bright lights, loud music and... cold-pressed juice? Five years ago, Seven2 digital advertising agency co-owner Nick Murto fell in love with juice bars while frequenting Los Angeles and New York on business trips and has since made this combination work in Spokane.
"I was addicted to these juice bars on every corner, and then would come home and just look around wishing we had some in Spokane," says Murto.
After talking co-owner Tyler Lafferty into a plant-based lifestyle, they opened Method Juice Cafe in downtown Spokane in 2012. Also wanting to promote staying active, they opened the Union Studios in 2014.
"The mixture of yoga and spin classes next to Method just makes sense," says Murto. "People can pre-order an acai bowl before a class and then grab it right when they're finished."
Inconvenient downtown parking and limited space restrict the downtown Method, but a parking lot and huge kitchen at the newly opened Method attached to the Union in north Spokane on Division Street provide opportunities for new juicing technology and significant menu expansion.
Method makes smoothies ($7) and juices ($8), but Murto is most passionate about the nutrient-packed, cold-pressed juices. Unlike smoothies, oxygen isn't really introduced when making juices, so they last around three days without the oxygen breaking down the nutrients and flavors.
A refrigerator-sized juicer pulverizing and pressing 10 to 12 gallons of juice per hour allows for Method to expand to at least 12 different flavors. Method is also now an authorized Bulletproof coffee vendor — an organic meal replacement that is said to boost energy, burn fat and help with mental clarity. Made with coffee beans, ghee, and XCT oil — along with the option to add collagen protein and Brain Octane oil — each coffee can contain 8 grams of protein and 30 calories ($6-$8).
Method's food menu now offers four bases for acai bowls ($7) — peanut butter, chocolate, greens and regular pure acai — rice bowls ($7) with additional flavors and sauces, and four new salads with more dressings and toppings.
Murto hopes to soon expand the north Method's hours, along with purchasing a refrigerated truck to sell juice out of and transport juice to the downtown Method.
"The Union and Method are still mindful," says Murto. "But we just want people to be having fun, smiling, sweating and being a part of this athletic community." ♦
Method Juice Cafe • 7704 N. Division • Open Mon-Fri, 7:30 am-7:30 pm; Sat-Sun, 8 am-2 pm • methodjuicecafe.com • 474-9878