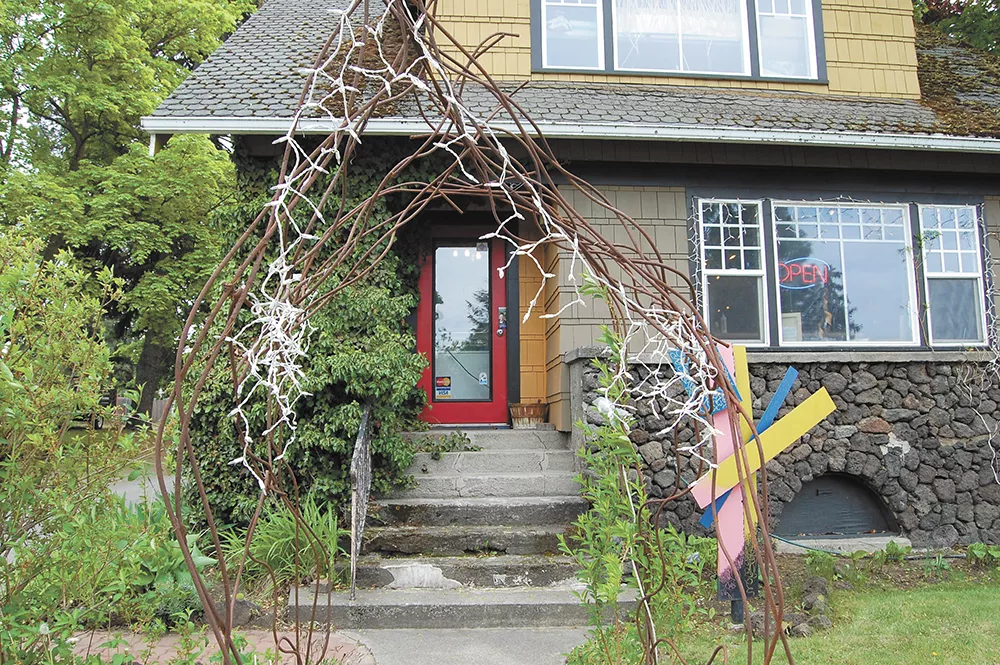 Among the newly built cookie-cutter shops now popping up across the South Hill is an artistic oasis in a colorful, rickety old house. The driveway, lined with metal sculptures, welcomes you into 29th Avenue Artworks (3128 E. 29th Ave.) — an art gallery and custom frame shop.
Deb Sheldon transformed this nearly broken-down home in 1987, young and naive at 25 after working in similar businesses on the hill. "It was a trial by fire," Sheldon explains. "I never bought a house before — heck, I never bought anything on credit before!"
Originally, the house was gray with bright teal and purple accents. "It was a different time then," she adds in between laughs. Since the eccentric '80s, 29th Avenue Artworks has constantly evolved, always with the purpose of "being fun and artistic."
Nearing 20 years in business, Sheldon always aspires to be different: "I'm just not a strip-mall person." Her list of plans for new adornments for her shop continues to grow. Her husband Jason specializes in metalwork, and the duo plans to add a sculpture garden near their parking lot.
Unconventional and ever-changing, the shop has gathered together a family of artists who host showings in the studio space. Sheldon is always happy to be the helping hand for any aspiring artist: "There is this great cooperativeness, this great sharing here, that I have never really seen in Spokane."
29th Avenue Artworks may only be labeled a gallery and frame shop, but its most important and unique role in Spokane is arguably its status as a safe haven for artists. Proudly showing the work of lesser-known names locally, Sheldon works hard to support artists who might one day become the next big thing:
"Personally, I feel like we need to encourage each other more. Period. Whether it's in art or it's in life. Everyone needs that one person to cheer them on." ♦