In many ways, the day begins like the awkward first days of college. A few participants overslept the communal breakfast. Some are undoubtedly hungover and lacking sleep due to a 1 am lights-out and little experience sleeping on thin camp cot mattresses.
After teams have put their heads together to create sassy team names ("Dam Classy Beavers," "Straight Outta Sweyolakan") and artistic flags made using a mélange of randomly procured art supplies, it's off to the first workshop on the picturesque grounds of Camp Sweyolakan, Camp Fire Inland Northwest's 93-year-old site on Lake Coeur d'Alene's Mica Bay.
The Collective Campout, as last weekend's retreat has been dubbed, is a first-of-its-kind effort to unite the talents and viewpoints of local creative industry professionals — graphic designers, artists, photographers, marketing and advertising reps and creative strategy directors — for three days of collaboration, learning and networking.
Aaron Abolofia, one half of the local arts project Tiny Mammoth and an art director with local agency Seven2, already has set up a large, square table with materials — paint, rollers, cutting tools and squares of linoleum — before students arrive to his morning class teaching relief printing techniques. He begins with roll call, and in appropriate fashion, each person raises a hand "here" as he moves down the list. Their workspace is a dusty, apocalyptic art room packed to the ceiling with boxes of disorganized supplies that have been rifled through all summer by young campers with little care.
Organized by the Spokane chapter of the American Advertising Federation and modeled after a similar event outside of Austin, Texas, called Design Ranch, Collective Campout includes traditional camp activities like team building exercises and sleeping in cabins, but also sessions on screen printing, creative writing, relief printing and typography. Each workshop is taught by a local artist or professional. Karli Ingersoll, co-owner of the Bartlett music venue and a local graphic designer/artist and musician, teaches a session on hand lettering. The Inlander's art director, Chris Bovey, shares screen-printing skills honed as he's created his series of location-focused Vintage Spokane Prints. Prolific local artist Tiffany Patterson leads a session to introduce participants to Social Sketch, an event she runs monthly in Spokane that's since taken hold in other U.S. cities.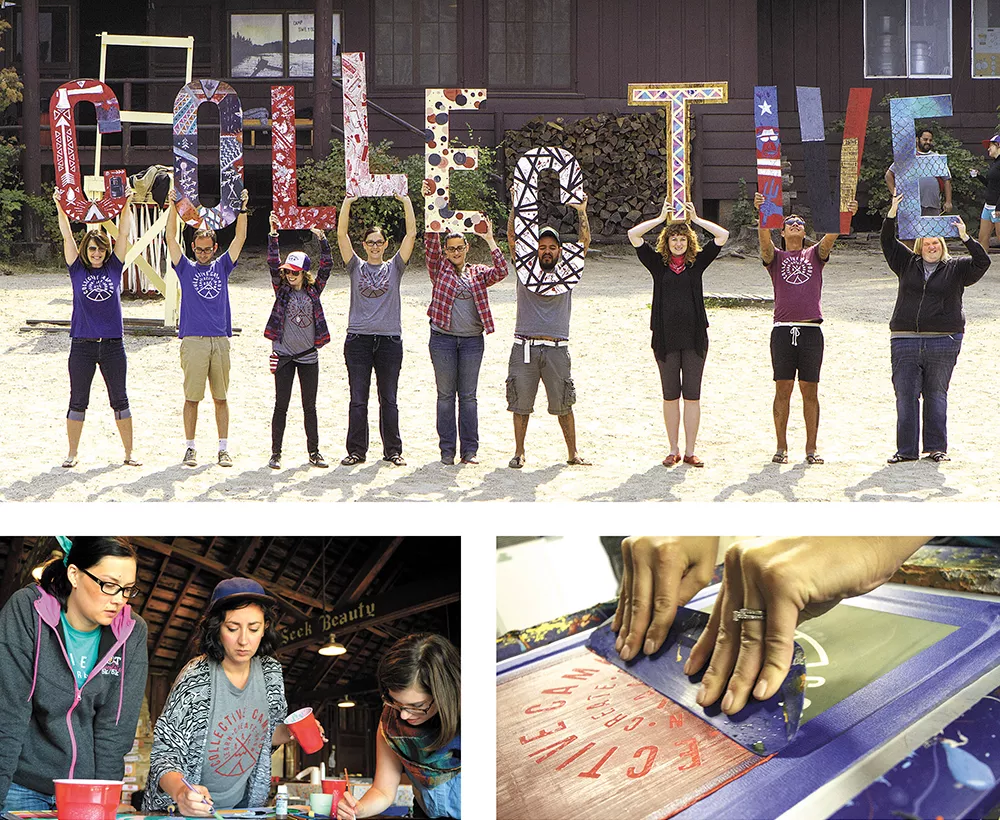 "We wanted to take all the rich talent we have in the community and let everyone have access to it," says event co-organizer Mellie Price, who's also the brand manager for Global Credit Union in Spokane and serves on the board of the AAF. "It's about making our creative world smaller and more collaborative, and showing that these people are accessible and willing to share and collaborate."
Open to attendees with any background or career, Creative Campout filled 60 of its 100 spots (the three-day, two-night experience cost $175, including meals) with a group that skewed mostly in their 20s and 30s. Ten teams were led by camp and workshop facilitators, and participants were able to partake in three of the nine 90-minute workshops held throughout Saturday. Collective Campout was bookended with keynote presentations by Stefan Mumaw, a Kansas City, Missouri-based creative expert who's authored guides for industry professionals including Chasing the Monster Idea and Caffeine for the Creative Team. In between all this, there were dance parties, swimming, kayaking, hiking, tasty camp meals and a team draw-off.
Above the sound of the waves gently lapping the sandy shore of Lake Coeur d'Alene, the prolonged hiss of an aerosol can rises through the evergreen canopy of trees. The odor of spray paint wafts through the needled boughs and fills the small pocket of forest. On a patch of bare, dusty dirt, two canoes overturned on pairs of wooden sawhorses are getting a street art makeover during one of the last workshops of the day, "Canoedling," (doodling on canoes) with artist Jon Merrell, the other half of the arts venture Tiny Mammoth. Above them, the scene in Sweyolakan's messy, second-floor art room has gone from printing in relief to printing on screens, and campers are pressing designs onto the same T-shirts they've been wearing all day.
It's this willingness to buy into the experience with such sincerity that's surprised Price most as the inaugural event (the AAF is hoping to host Collective Campout again next summer, but no firm decision has yet been made) has carried through the weekend.
"It depended on that, and them going 'OK, we're going to be dorky and be in groups, and we're going to be uncomfortable at times, and this is going to push us,' and you have to be willing to do that," Price says.
"People wanted to be there, and that was great. It bridged the 'I'm here to do workshops because my work paid for it,' to 'I'm here to learn about people and engage and broaden my scope.'" ♦