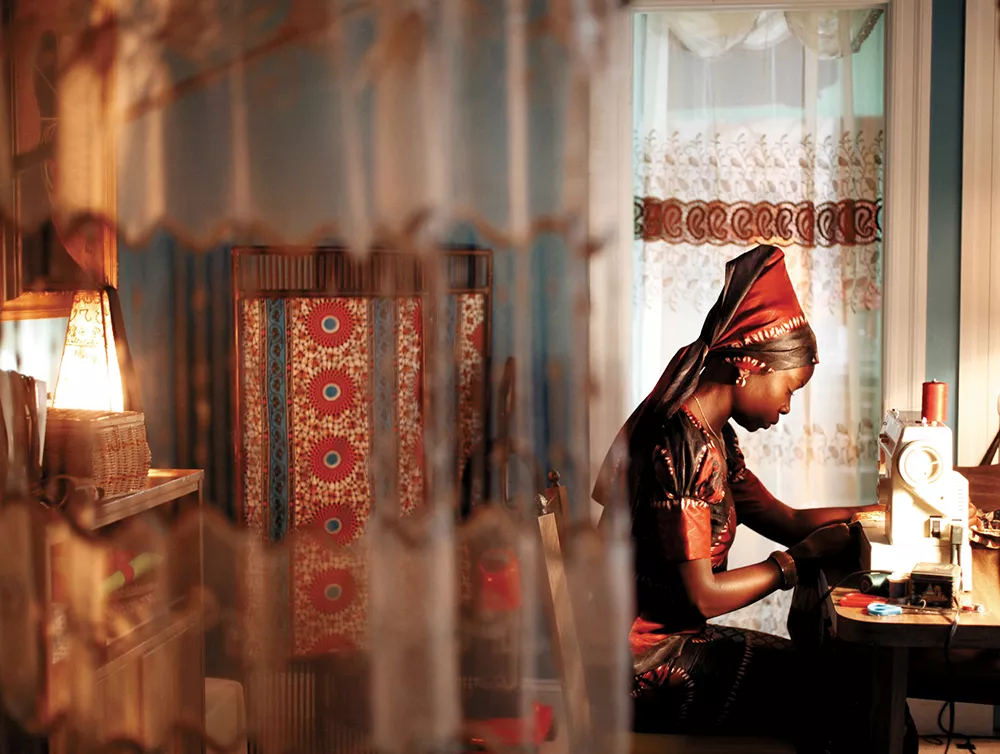 It's the plight of many a Western working woman — waiting too long to have a child, enduring that pain of not being able to do what is so essentially female. But where many American couples would opt for in vitro fertilization treatments or adoption, these alternatives, as we learn in Mother of George, are unthinkable to those in a traditional Nigerian culture, even if they're living in Brooklyn.
The story unfolds simply enough, with a wedding — a gloriously colorful, traditional African ceremony. Everyone is beautiful here. The megawatt smiles, bright headscarves and dresses are more radiant than Hollywood starlets could ever hope to be.
The newlyweds are Ayodele (an incredible Isaach De Bankolé) and Adenike (Danai Gurira, also amazing), two immigrants in their 30s who love each other wholly. Ayodele runs a restaurant with his younger brother, working hard to provide for his wife so she can stay at home.
Eighteen months into the union, despite lots of baby making (which the film shows), no baby has been made. Adenike is beside herself. Her husband refuses to see a doctor for assistance. So she drinks terrible-tasting tea twice a day, she consults a witch doctor — none of it helps. Not helping matters are two would-be-grandmas who won't stop putting insurmountable pressure on the couple to conceive.
The cinematography here is as indie as it gets. The camera looks through windows, through inside rooms' translucent curtains, making language nonexistent at times. Often, the lens will focus on one person in a scene when there are actually two, forcing the viewer to guess the other's identity. Sometimes shots are right in people's faces, other times they blur, focusing only on a hand. This adds to the claustrophobic feeling as our heroine slowly runs out of options.
At about the midway point, her mother-in-law concocts a plan not far removed from Biblical times; either Adenike's husband should take another woman, or she should get it on with his brother. "It is the same blood," after all.
But as deplorable as the situation becomes, the story moves far beyond desperate infidelity and lies that gnaw away at one's soul to explore the depths of forgiveness in a way no other film in recent memory has achieved. The action may move at a snail's pace, but the ending will never leave you. ♦