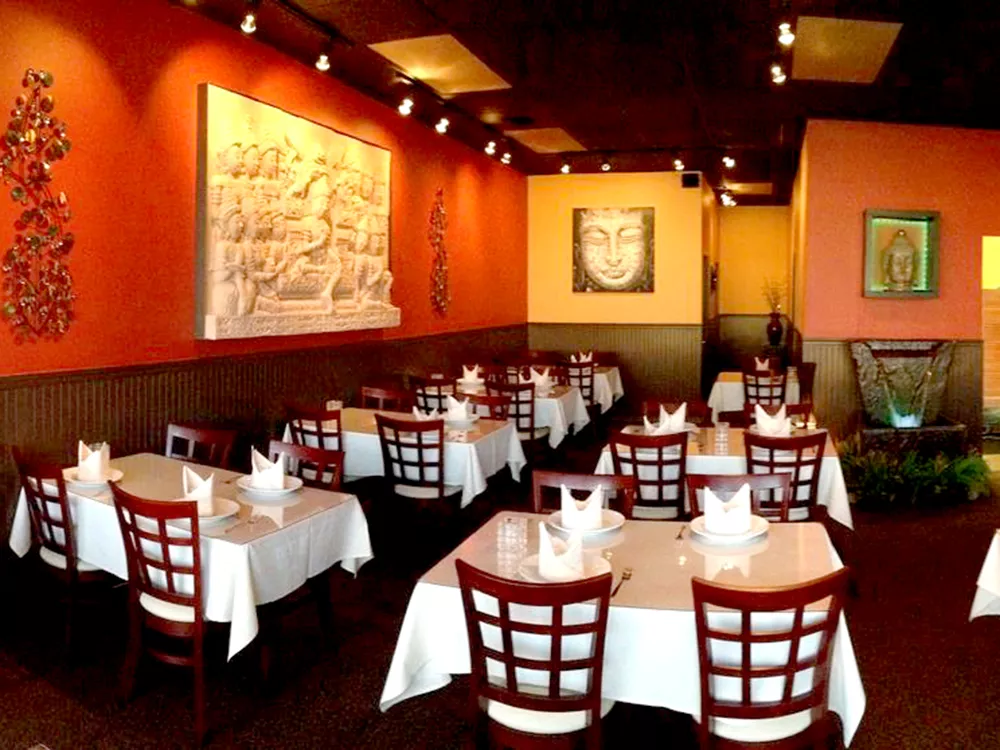 Sue Ounpikul and her daughter May received the blessing of Bangkok Thai founder Kay Chidaprist when they opened the restaurant's newest location two months ago on the corner of Argonne and Sprague, in what used to be Thai Grill.
The women oversaw a total renovation. Bangkok Thai's signature deep-colored walls and sandstone-hued replicas of Hindu-influenced wall sculpture now surround the diners, who linger at their tables, chatting with one another as servers replenish water glasses. The restaurant provides an intimate setting for quite possibly the most unrushed lunch crowd in the Spokane area. That could change once word gets out.
The price of a lunch combo is the same at all three locations; a mere $9 allows you to sample three entrées, two mini-spring rolls and a generous helping of jasmine rice. The chicken pra ram — steamed chicken atop blanched spinach — is ladled with a tasteful amount of peanut sauce. Bright-green spinach curls against tender chicken tenderloin, with the jasmine rice picking up any of the remaining lip-smackingly nutty sauce. The chicken pad Thai's tender rice noodles and crunchy alfalfa sprouts are complemented by the slightly tart sauce, while the gang daeng kai's red curry paste imparts spicy zest to bamboo shoots, coconut milk and bell pepper. Servers readily answer questions about spiciness and adjust the levels of burn (on a scale of 1 to 5) to suit the patron's palate.
Other favorites include tom kha kai (chicken coconut soup), curries in all colors (green, yellow, red) and — from the dinner menu — crab fried rice ($17), ginger duck ($19) and pineapple chicken ($18). After receiving their steaming entrées, several diners commented on the similarity between Bangkok Thai's locations.
If you've been to the South Hill or Riverwalk locations, you won't find anything surprising on the menu at the newest venue on Argonne in Spokane Valley. Kay Chidaprist's menu features — and Bangkok Thai enthusiasts will swear to this — some of the best Thai cuisine in Spokane, so why change things now?
Bangkok Thai • 101 N. Argonne Rd., Suite E, Spokane Valley • 315-9943 • Mon-Thu, 11 am-9 pm; Fri, 11 am-10 pm; Sat, noon-10 pm; Sun, noon-9 pm