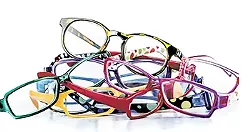 It may be hard to see, but what is an easily corrected loss of visual acuity in this country can leave people in developing countries almost completely reliant on family assistance just to survive. If you've experienced the delight of replacing old prescription glasses with an updated pair, you can help solve this problem by donating your used specs. Various humanitarian organizations accept used eyeglass donations and distribute them to those in need, dramatically improving their quality of life.
Spokane optometrist Brett Hagen is a proponent of eyeglass recycling initiatives. His office, Garland Vision Source, donates used prescription glasses to three organizations, including Volunteer Optometric Services to Humanity (VOSH), an international organization that sends teams around the globe, administering eye exams to individuals in need and distributing appropriate prescription glasses.
"When you take a person who's a minus eight [prescription] and find a pair of glasses that's a minus seven, you've just taken care of a vast majority of their correction and just left them mildly nearsighted, and they're ecstatic," Hagen says. "When you dramatically reduce their correction, you dramatically reduce their dependence on those around them."
Organizations such as the Lions Club are also on the forefront of the distribution effort. The club has many collection locations around the area:
Spokane: Lion's Low Vision Clinic, Heads Up Barber Shop, Corbin Senior Activity Center, America's Best Contacts & Eyeglasses, Walmart Vision Center, Hussee Optometry, Spokane Eye Clinic, Sinto Senior Activity Center, Shopko on South Perry, St. Stephen's Episcopal Church, East Central Community Center, Windermere Realty, Rockwood Optical, Temple Beth Shalom, Spokane Central Lions Club Office, Deaconess Hospital Info Booth.
Spokane Valley: Eye Care Associates, Spokane Eye Clinic, Recycling Center at 10016 E. Valleyway, Spokane Valley Senior Center.
Coeur d'Alene: Lake City Center, Coeur d'Alene Vision Source, Shopko Optical, Coeur d'Alene Optic, Humane Society Thrift Shop, Little Mo's Optical, Lakeside Eyecare, Women's Center Thrift, Hospice Thrift Store, Kootenai Vision Center.
Hayden: Jerry's Barber Shop, Hayden Senior Center, Walmart Supercenter.