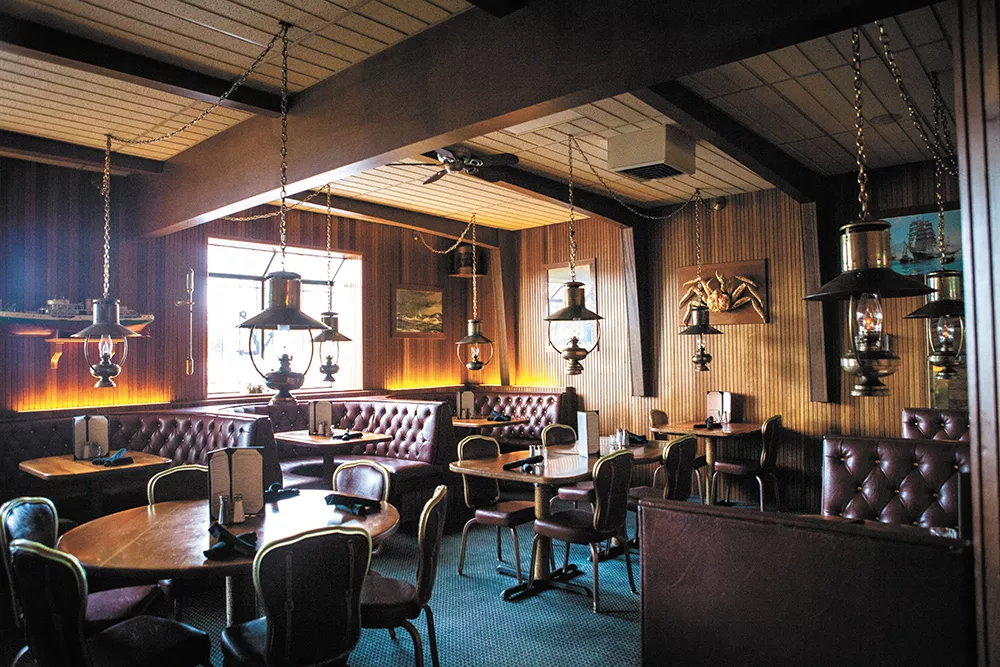 Liz Nelson remembers the S.S. Beryl restaurant and pub in North Spokane as a hip neighborhood hangout back in its heyday.
"I remember coming here in the '80s, and it was hard to even find a table. It was that popular," she recalls from a curving booth in the corner of the dining room, its walls fully enclosed with wood paneling.
"When the [former owners] first remodeled it, it was like the Taj Mahal — all that mauve and brass — everyone was oohing and ahhing and saying, 'Wow, this is so cool,'" says Nelson.
She and her husband Curtis even held their wedding rehearsal dinner at the S.S. Beryl. Now, 26 years later, the couple owns the place.
The vintage relic on North Wall Street hasn't changed much since then, nor since the Nelsons and their business partner, Todd Phelps, purchased the S.S. Beryl last October, adding it to their collection of eateries, which includes the Steelhead Bar & Grille downtown and several others across the city. Their group, Nelson + Phelps Hospitality, also owns Morty's Tap and Grille on the South Hill, Selkirk Pizza and Tap House at Wandermere and Fieldhouse Pizza and Pub near Shadle Park.
The interior of the Beryl is still brass-accented and nautical-themed — giant stuffed crabs and a massive ship's wheel adorn the walls of the lounge — but Nelson says their team scrubbed the place from floor to ceiling. Out went the dusty silk flowers. Restrooms were gutted and remodeled, and the kitchen was refitted with all new equipment.
The sign out front still reads "S.S. Beryl," which first opened in 1968 as the Beryl Tavern. Since Nelson's company bought the restaurant, its name has been simplified to "The Beryl," which could change again to "The Barrel" depending on upcoming changes to its physical aesthetics.
"We're trying to find a happy medium that identifies with us, but also retains its historical integrity," Nelson notes. "I think we can still create a great place without it being nautical."
The former menu, which ran 4 to 5 pages, was streamlined into a concise offering of classic surf-and-turf, complemented by seafood appetizers, sandwiches, soups and salads.
Company chef Dan Gonzalez, who oversees the kitchens of all its restaurants, retained a few items from the Beryl's previous menu, keeping the focus on surf-and-turf. Some of the most popular dishes so far are coconut prawns ($15) with sweet chili sauce, scallops ($22) and the prime dip ($14); the latter comes loaded with grilled onions, mushrooms and cheese, with a side of au jus.
Most of the kitchen and waitstaff stayed on through the transition, including several who've been there for 10 or more years.
Though perhaps not noticeable from its unchanged outer facade, the Beryl's interior has been spruced up until the new owners can budget for a full-scale remodel, including the building's bland exterior. When it warms up, they'll also update the Beryl's intimate and fully landscaped garden patio that's fenced in from the street.
"In the interim, we're hoping to reintroduce people and let them know we have really good food. It's a little retro, but it won't be that way for long," Nelson says.
The delay in upgrades is mainly because Nelson + Phelps' takeover of the Beryl wasn't expected to happen when it did. Nelson says they'd long been eyeing the decades-old eatery as a potential addition to their company. Then its longtime former owners, Patty and Bob Roloff, decided to retire last year, after having previously approached the group about selling years prior.
Meanwhile, Nelson's company has been working on opening a second location of Fieldhouse Pizza in Liberty Lake (debuting in early February), as well as beginning renovations of a historic downtown building — a brick structure that most recently housed The Hop! music venue, at 706 N. Monroe — to eventually become the company's new headquarters and an event center. That project probably won't be completed until late this or early next year.
"All of our time, energy and resources have been focused on those two things, so when the stars aligned, we thought, 'How can we say no?' so we took [The Beryl] over," Nelson says.
"Little by little, we're generating some new excitement around this place, and getting younger clientele in here to revitalize it." ♦
The Beryl • 6404 N. Wall • Open Mon-Thu, 10 am-11 pm; Fri, 11 am-11 pm; Sat, 4-11 pm; Sun, 4-9 pm • Facebook: The Beryl • 467-5490