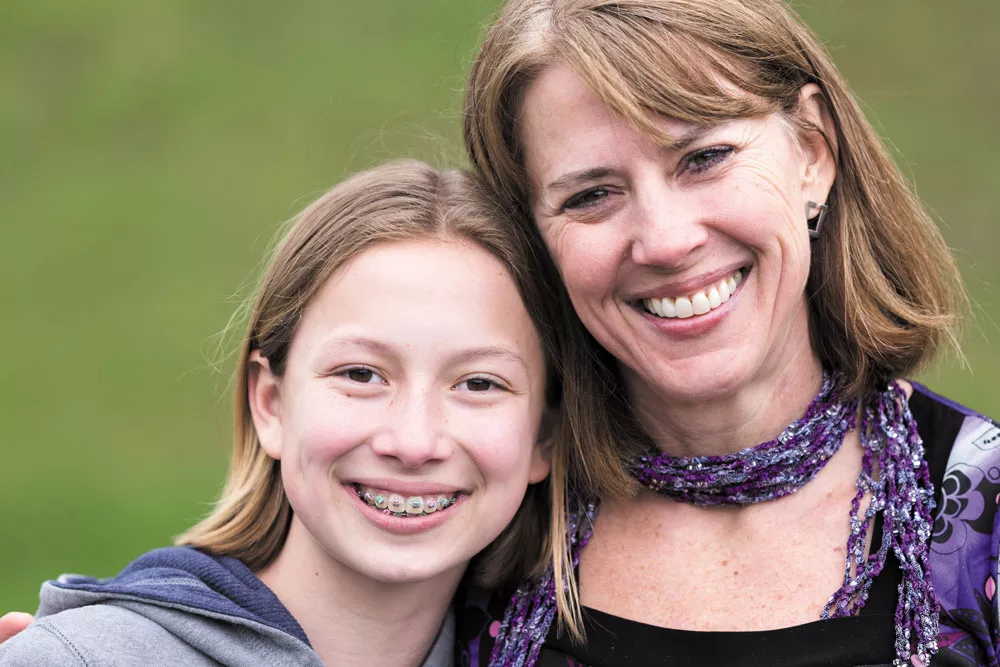 When Twyla-Lea Jensen got her braces on, she decided to surprise her family. It turned out it took more than an hour before her husband and daughter noticed. And while it felt at first like everyone she met was noticing them, that faded after a week, she says. Sometimes strangers did notice — and told her they'd had braces as adults, too.
"I'm just so pleased," says Jensen, who now has them off. "It's improved my confidence in my smile."
Long considered a rite of passage for adolescents, braces are becoming more popular and socially acceptable for older patients. Nationwide, one in five of all patients at orthodontic offices are older than 18. Many of them are young twentysomethings, but a growing number of older adults in their 40s, 50s and beyond also are opting to invest in their smiles.
"We definitely have seen an increase in adult patients who are seeking orthodontic care," says Gayle Glenn, president of the American Association of Orthodontists.
The increase has been spurred in part by improved technology that makes braces less cumbersome, but it's also a generational shift in what we expect from our teeth as we age. These days, 50 or 60 doesn't seem very old. Spending a year and a half with braces still leaves decades to enjoy the benefits, from eating more comfortably on a daily basis to smiling more widely in photos at the weddings of children and grandchildren.
Adults who get braces are sometimes motivated by purely cosmetic reasons, but often it's also about prolonging the life of their teeth. Over time, issues with jaw position and teeth alignment can cause headaches, gum disease and wear on tooth enamel. For most of modern history, people who outlived their teeth simply expected to get dentures. Glenn, who's in her 50s, remembers how her grandparents had dentures that they removed every night — but that's not the expectation of youthful grandparents today. "Certainly people in my generation and younger expect to keep their teeth," she says.
Many adults remember growing up when braces required a band around each tooth — "a lot of metal," Glenn says — and the balance tips when they see how much orthodontic technology has improved. Adult patients' most common concerns — How it is going to look? How long is it going to take? — are not so different from children's concerns, but they're asking from a more complex perspective that takes into account how braces and trips to the orthodontist may interfere with work, travel plans and working with clients.
Jensen says the amount of time is what sold her on the idea of getting braces as an adult — she went to Curtis Orthodontics in Coeur d'Alene for a consultation along with her daughter, and was expecting it might take three years. Instead, she was told it would take just 15 to 21 months.
"Being able to get that done quicker makes it more attractive," says Dr. Erik Curtis of Curtis Orthodontics.
He's had adult patients across the spectrum from 20 to older than 70, he says, and adult patients feel a lot more comfortable when they realize they're not alone. The process is largely the same for adults as it is for kids, the main difference being that adults frequently have a more complex dental history. They're more likely to have cosmetic bonding, crowns, veneers and natural wear, and are more susceptible to receding gums or other periodontal disease. A lot of times, braces for older adults are planned with more of a teamwork approach, Glenn says, the orthodontist coordinating care with the patient's periodontist and dentist.
Orthodontists say there's no reason to downplay the cosmetic benefits, either. People who've been reluctant to smile for years are transformed by their new confidence in their teeth in ways adolescents may be too young to fully appreciate. Curtis recalls the rewarding experience of treating one patient, a woman in her 70s whose teeth were repositioned to accommodate implants.
"At the end she was hugging me," he says, "and almost in tears about how much it changed her life." ♦
Read more from the American Association of Orthodontists or find a local orthodontist at mylifemysmile.org.