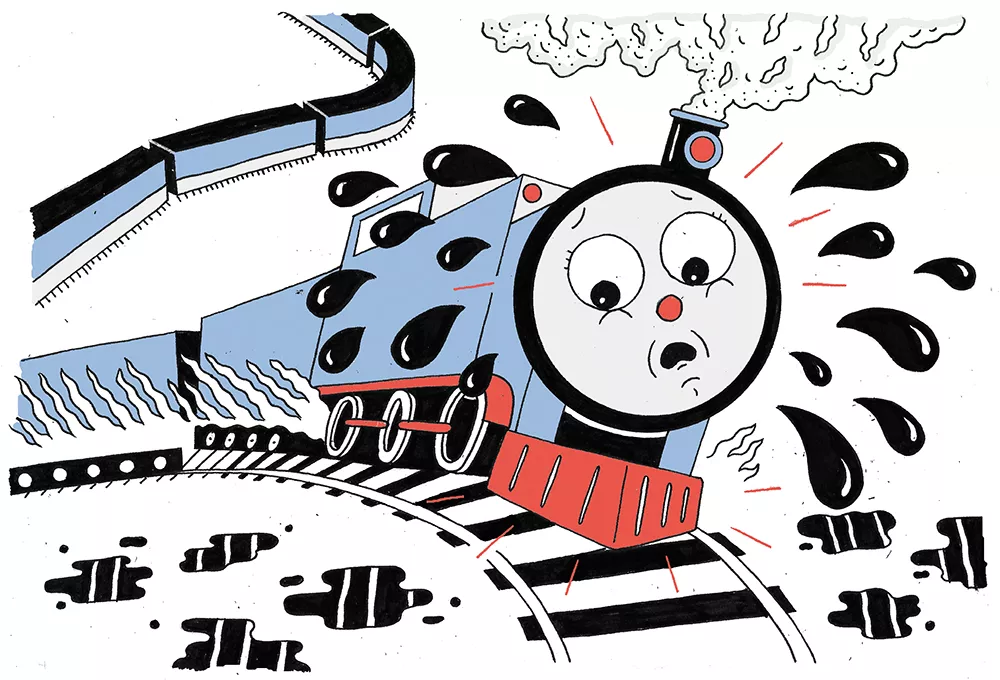 It's a recurring nightmare that plays out like a disaster film, but is all too real: A train slips from its moorings and rolls off the tracks, sparking an explosion that sends massive fireballs hundreds of feet into the sky. That's exactly what happened in Lac-Mégantic, Quebec, on July 6, 2013, when a train carrying extremely volatile Bakken crude oil derailed, killing 47 people.
I live one block from the tracks in an area of downtown that is experiencing a housing revitalization. I am no stranger to seeing one of 16 Burlington Northern Santa Fe trains that will riskily pass through this week from North Dakota's Bakken oil fields on its way to a Western Washington refinery. Across the state, that number could rise to 137 a week by 2020. Unlike other parts along the tracks, we have the highest urban area at risk. Numerous businesses, Lewis and Clark High School, and Sacred Heart and Deaconess hospitals — all are in the blast zone.
Nearly two years after the tragedy in Quebec, we've tried nationally and locally to address the problem of increased crude-by-rail shipments; however, we keep coming up short. The growth is staggering: U.S. railroads delivered 7 million barrels of crude in 2008, 46 million in 2011, 163 million in 2012, and 262 million in 2013. Our aging infrastructure and safety standards can't keep up.
Since February, there have been four fiery derailments of crude oil trains in North America, as well as many more spills. This week, news broke of a BNSF crew who spotted oil sheen on the side of a tank car at the Hauser, Idaho, refueling depot; 13 of the other tank cars were found to be leaking. The Spokane Valley-Rathdrum Prairie Aquifer, sitting just 160 feet below the refueling depot, is the sole source of drinking water for an estimated half-million people in Kootenai and Spokane counties.
The state passed a notification bill for responders when a train comes to town, watered down from more preventative measures. During the past election cycle, oil refineries and railroads poured thousands of dollars into Senate Republicans' coffers for control. Tesoro operates a refinery in Anacortes and proposes to locate a large crude oil train terminal and export facility in Vancouver. The company gave $22,500 in contributions to independent expenditures on behalf of Republican candidates.
In the most recent Spokane City Council race, BNSF made two $5,000 contributions, including to the Eastern Washington Political Action Committee — which was managed by Mayor David Condon's re-election campaign manager — on attack ads against city councilmembers Jon Snyder and Candace Mumm, both of whom have called for oil train disclosure. The money spent on races might be better used for other purposes; BNSF has an awful track record. The company claims that the past year was their safest to date, when in fact, more oil was spilled from their trains than during the previous 38 years combined, according to government data.
Just-released federal regulations will force manufacturers to thicken their tank cars to avoid rupturing, and require electronic brakes. However, the rule is "just like saying, 'Let the oil trains roll,'" said Washington Senator Maria Cantwell.
Cantwell gets it; she has introduced legislation requiring regulators to set a volatility threshold for the oil loaded into the tank cars, which isn't addressed in the national regulation.
Her legislation also would authorize $40 million for training programs and grants to communities to update emergency response and notification plans. Cantwell commented that "firefighters responding to derailments have said they could do little more than stand a half-mile back and let the fires burn." In fact, the International Association of Fire Chiefs doesn't have a specific code for response. They use NFPA 472, the same code for responding to weapons of mass destruction.
That doesn't help me sleep any better at night. I'm not sure how the oil companies, BNSF — or the political players carrying out their dirty work — do. ♦
Paul Dillon is the Eastern Washington Program Director for YMCA Youth & Government, teaching democracy to youth through hands-on civic engagement. He has worked in the state legislature and currently lives in downtown Spokane.