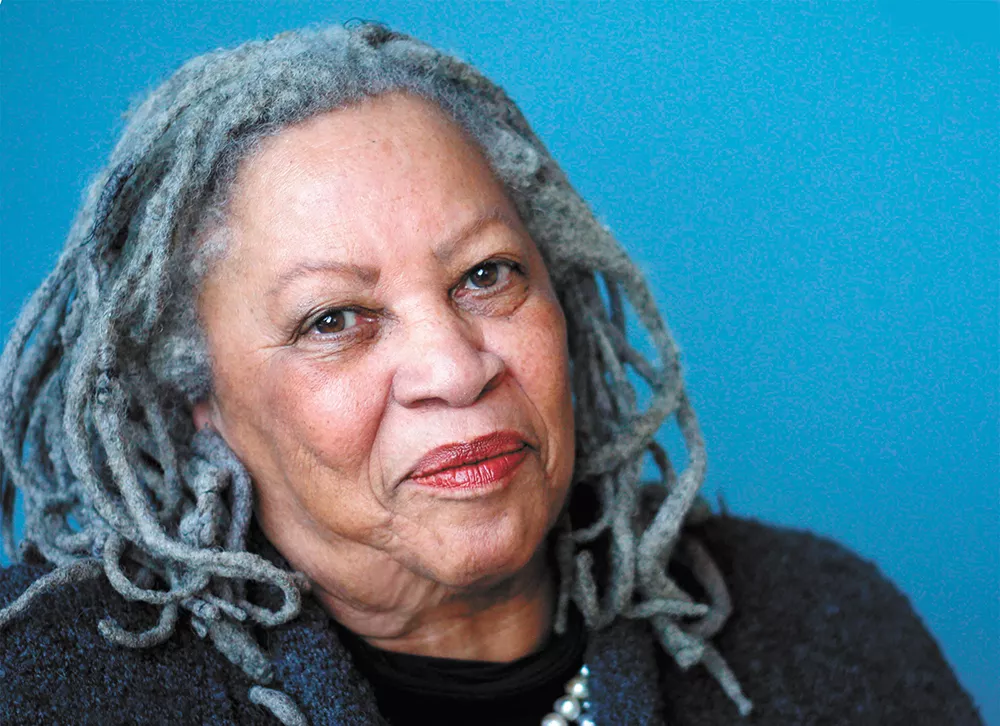 What a writer we lost this month, the peerless Toni Morrison. Her writing was poetic, challenging, morally imaginative, and illumined previously unspoken truths about collective generational trauma. She was a visionary and an oracle, a single mom, an esteemed professor. Her brilliant novels — deeply committed to the realities of our country and stippled with witches and love potions and ghosts — defied common tropes of American realism and centered black women firmly as the spinal column of a genius body of work.
"I'm already discredited, I'm already politicized, before I get out of the gate," Morrison said in a 2003 interview with Hilton Als of The New Yorker. "I can accept the labels because being a black woman writer is not a shallow place but a rich place to write from. It doesn't limit my imagination; it expands it."
In a recent New York Times elegy, writer Roxane Gay wrote, "She was of us and wrote for us nuanced, complicated, authentic and honest representations of our culture, our lives, our triumphs, our sufferings, our failures. She demonstrated the importance of raising our voices and challenging power structures that harm vulnerable peoples."
On the PEN website, lauded novelist Zadie Smith wrote, "She enriched our literary inheritance, and now every school child, whatever their background, can inherit Morrison as a literary forebear, a great American writer, who is as available to them — as 'universal' — as any other writer in the canon. All readers and writers are indebted to her for the space she created."
When I was 15 years old, my older nephew Brent gave me a copy of The Bluest Eye. To anyone who hasn't read Morrison yet, I'd suggest beginning with this novel. In it a young Pecola Breedlove struggles under the white gaze, being told in myriad forms that, as a black girl, she is ugly. She longs for blue eyes — they are for her emblematic of white beauty. Her own father rapes her in an upside-down attempt to convince her of her own attractiveness; she becomes pregnant with his baby. Her emotional unraveling is one of the great tragedies of contemporary American literature — it rises above Lily Bart's downfall in House of Mirth, it far surpasses Melville's doomed Billy Budd — and, like many of Morrison's novels, this is a must-read in any literary canon.
As a white, blue-eyed girl growing up in an affluent neighborhood in Spokane, I'd overheard family members wave off any responsibility regarding slavery, systemic poverty, police brutality, even casual racism, giving us a carte blanche to ignore the way current events are shaped by our very real and ever-present history. I've never personally done anything to harm anyone, so why should I feel guilty? It became clear to me while reading Morrison and moving about the world with open eyes and heart that this is a mantra of complicity, this is white privilege at its core. In The Bluest Eye Morrison penetrates the day-to-day pain inflicted by pervasive racism and ongoing segregation. The refusal to acknowledge these truths frankly is deleterious; the novel spotlights how this erroneous erasure robs our nation's children of their self-esteem and in many cases, their lives.
Morrison's muscular, metaphorical prose alone was enough to catapult her to celebrity status, and I have, as a writer, long admired her intellectual power and ambitious experimentation with form. While a student at the University of Washington, I read a scene in Tar Baby about a tall woman with "skin like tar," dressed in "canary yellow." I remember holding my breath through the entire scene, thinking, How flawless, these sentences!
"The woman leaned into the dairy section and opened a carton from which she selected three eggs. Then she put her right elbow into the palm of her left hand and held the eggs aloft between earlobe and shoulder. She looked up and they saw something in her eyes so powerful it had burnt away the eyelashes."
It remains one of my favorite passages in literature — alive, throbbing, rippling with visually astounding sentences and characters and women — women! — who take on a mythological power on the page. That said, what gives Morrison's work its longevity is not just her prose. It's her humanity. It's her keen dedication to represent the lives of people wronged and harmed that makes her fiction endlessly vital and transformative.
As Morrison wrote in a gorgeous essay in The Nation, "There is no time for despair, no place for self-pity, no need for silence, no room for fear. We speak, we write, we do language. That is how civilizations heal. I know the world is bruised and bleeding, and though it is important not to ignore its pain, it is also critical to refuse to succumb to its malevolence. Like failure, chaos contains information that can lead to knowledge — even wisdom. Like art."
Morrison received the world's most notable literary awards for her work, including the Pulitzer Prize, the Presidential Medal of Freedom, the Nobel Prize, and more, accolades that are the cresting wake behind her titanic talent.
Of course, the best way to love and appreciate this unparalleled artistic legacy is to revisit Morrison's work. Read The Bluest Eye and let it break and, yes, crack open your heart. Read the challenging ghost story Beloved and marvel over its historical accuracy, its exquisite language and blistering moral intelligence. Read the gripping love story and "black fable" Tar Baby and witness how the United States can be both home and poison. Of this latter book, Morrison said in an interview, "For me, the tar baby came to mean the black woman who can hold things together." Read Sula, read Song of Solomon, read A Mercy and Paradise. Read and celebrate and mourn and assess and change. This is what the finest literature pushes us to do: To become better humans.
"We die. That may be the meaning of life," Morrison stated in a Nobel Prize acceptance speech. "But we do language. That may be the measure of our lives."
Thank you, Toni Morrison, for your language, for your meaning, for your words that don't lie to us but live with us in this time of extraordinary need. ♦
Sharma Shields is the author of The Cassandra and The Sasquatch Hunter's Almanac.