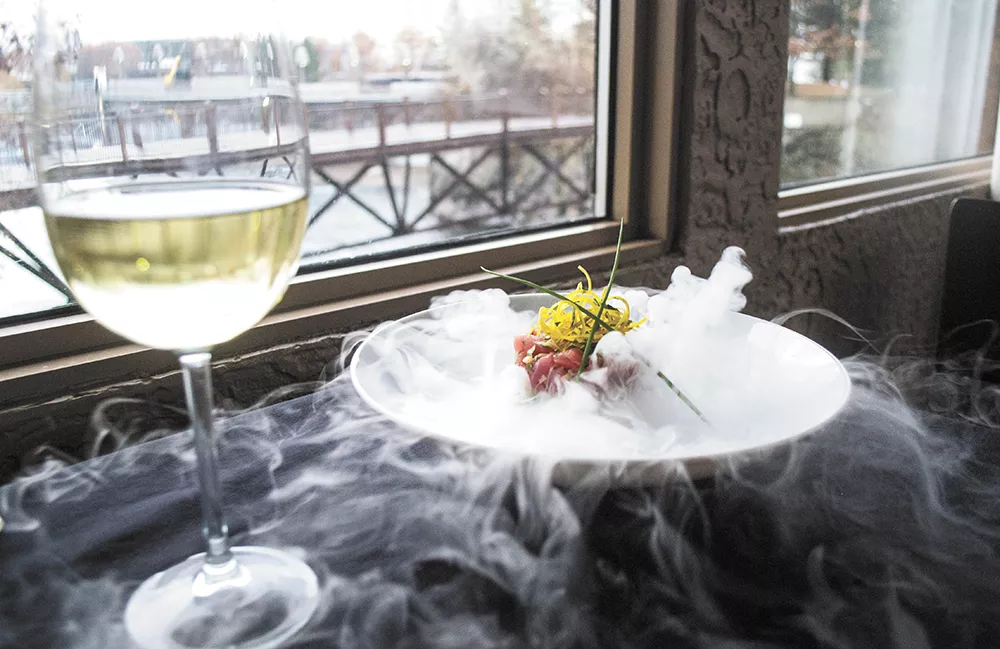 At the back of the Red Lion Hotel at the Park, the Park Place Lounge used to be just a hotel lounge catering to adults. But in July, the Red Lion replaced it with the Dam Bar and Grill.
The hotel's general manager Michael Fear says they made the switch because the Park Place Lounge didn't represent what they wanted to become. The hotel wanted a restaurant open to all ages that offered two meals a day and drew in more than just hotel guests. Since the restaurant sits along the Centennial Trail and faces the dam bridge crossing over to Riverfront Park, the aim is to accommodate locals, conventioneers and people using the trail.
"There are lots of bikers and joggers and hikers," Fear says. "It's a nice place to stop in after a good run or a break from your bike."
He points out healthy items on the menu, like their list of salads that includes a seasonal kale salad ($11) topped with red onions, roasted red bell peppers, slivered almonds, Kalamata olives, feta, dried apricots and cranberries, all tossed in a roasted garlic yogurt vinaigrette with the option of adding chicken or salmon. The rest of the handheld items, small plates and large plates on the menu are largely regionally inspired.
"With everything we do now we're trying to use local ingredients, whether it's the Washington seafood cioppino ($23), the flat iron steak ($27) or the Montana bison burger ($12)," says Fear.
For executive chef Scott Rutter — who was featured on Top Chef before eventually coming to Spokane — some of his favorites on the menu include the pan-seared king salmon ($20) served with a quinoa salad and the Draper Valley Farms chicken breast ($18) that's roasted with an herb rub and petit crimson lentils.
Pair your meal with one of several local brews — currently including offerings from Waddell's, River City and Paradise Creek — or one of their signature cocktails. Chef Rutter says you'll also find nightly specials not on the regular menu that have a seasonal feel, such as apple cider-brined kurobuta pork loin or smoked pheasant soup. ♦
The Dam Bar and Grill • 303 W. North River Dr. • Open daily, 11 am-midnight • redlion.com/park-spokane • 326-8000