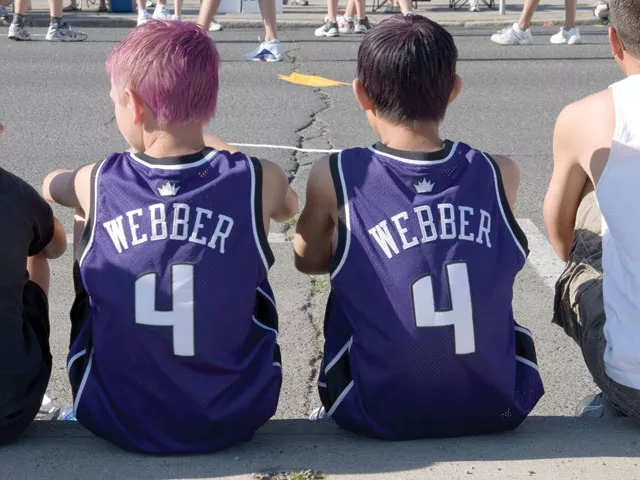 10. RUN THROUGH THE ROTARY FOUNTAIN (OR JUST WATCH OTHER PEOPLE DO IT)
If this year's Hoopfest is typical, downtown Spokane will be claustrophobic — and hotter than Satan's broom closet. You've got players in sweaty jerseys, moms with strollers, toddlers with sticky ice cream fingers, and about an inch of personal space. Go get wet, cool off and extend your body's Hoopfest durability.
9. VISIT THE HOOPFEST STORE
Set up in the middle of Riverfront Park on Spokane Falls Boulevard — because, you know, this is the only place to nab custom Nike and Hoopfest schwag, like limited-edition shirts, basketballs, hats and shorts. It doesn't matter if you can't dribble to save your life. You can still rock the gear. (No checks, please.)
8. WORK ON YOUR GAME
Single? With more than 200,000 people in town for the weekend, your odds just increased — significantly. Work on establishing extended eye contact with 10 to 15 potential dates.When you get home, post your findings to the "Missed Connections" section on craigslist. We'll be damned if you don't get at least one number out of it.
7. CHECK OUT THE MUSCLE MILK HIGH SCHOOL CENTER COURT
Located along Spokane Falls Boulevard, this court is designated for the region's rising stars to strut their stuff. They spend their winters inside gyms, but now they're out in the bright light. And desirable members of the opposite sex are watching.
6. WATCH THE ITTY BITTIES AND THE PUSHING-60's
Forget the able-bodied players. Go encourage the adorably unaware third-graders chasing after basketballs bigger than their bodies. Or cheer for the heroically huffing old-timers who throw it down like it's 1967, bad hips and all. (The young 'uns, by the way, usually play in front of Rocky Rococo's on Main Street, and on the bridge section of Stevens Street.)
5. CATCH A SLAM DUNK COMPETITION
Set the bait and they will come. On Saturday and Sunday at various times throughout the day, a hand ful of world-class slam-dunkers perform at Nike Center Court in the heart of Riverfront Park. If you prefer to watch mere mortals take a whack at it, the U.S. Marines are sponsoring a dunk competition for non-professionals on Saturday at 2 pm, with finals on Sunday at 3 pm.
4. PLAY SLAMBALL
Basketball and trampolines…what other reason do you need? Starting on Thursday during team check-in hours, all dunkers are created equal when Howard Street is closed down and outfitted with a special set-up that allows participants to slam dunk — off a trampoline! It's ridiculously awesome. Kobe who?
3. PEOPLE-WATCH
There's an art to doing this right. First, get something delicious to snack on from the outdoor food court in Riverfront Park, like a gyro or elephant ear. Next, plop yourself down in a good spot, like the hilly area near Nike Center Court. Keep track of who can spot the most of what. Themed teams? Mullets? Bad tattoos? Bonus points for anyone who can distinguish the playerz (wannabe posers whose excessive gold chains are a dead giveaway) from the players.
2. WATCH THE TOYOTA SHOOTOFF
Ah, the legendary overtime stalemate-buster. After a series of preliminary qualifying rounds, the best long-range shooter winning the final shot walks away with a brand new RAV-4. Hoopfest's marketing coordinator, Kirsten Harrington, says the best time to watch is around 3:30 pm on Sunday at the Rotary Fountain in Riverfront Park.
1. MAKE A BEER GARDEN RUN
You're downtown. Restaurant and bar patios abound. Here are the rules: One venue every hour. A different microbrew at each location. Five minutes to consume each drink, eight minutes to take in some basketball. Proceed to the next location. Great patios include the Steelhead Bar & Grille, the Riff, O'Doherty's, Isabella's, Mizuna and Marquee. Loss of inhibition or clothing gets you disqualified. (Remember, there are kids around.)
Don't like any of the above? Go golfing. It's the best weekend of the year to hit the links.