WHAT WAS YOUR FAVORITE FOOD TO EAT AS A KID?
Dennis Kyllo
Probably hamburgers.
Any hamburgers in particular?
Bacon burger. You can tell by looking at me.
---
Candace Padilla
Macaroni and cheese with hot dogs.
Why the hot dogs?
I don't know, that was just the way it came at home.




---
Blair Rossow
I think it was chicken, like barbecue chicken, actually. My grandpa was good at barbecue. It just has so many memories.





---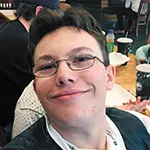 Hunter Braier
It would have to be Jack in the Box.
Why Jack in the Box?
A lot of times with me and my parents, we'd go there, get a few milkshakes, hang out and just have fun.



---
Kiah Owen
Canadian bacon and pineapple pizza.
You know, a lot of people don't like pineapple on their pizza.
A lot of people are wrong.


---
INTERVIEWS BY ERIC SCHUCHT
5/24/2018 RIVER PARK SQUARE