DYLAN PEARSON
Once we tried to barbecue a turkey, but we had no idea what we were doing. It ended up as a disaster. Everything that could've went wrong went wrong.
What happened?
We burned it so much. Plus we put on the seasoning too late. It ended up tasting OK, but it looked terrible.

---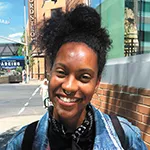 THERESA CATANESE
I think back to whenever my dad would set up the barbecue — it became sort of this sacred thing. So just when I would go out there with him to prepare it, and we would end up talking for a while.




---
JAMIE MORSE
My favorite barbecue I've ever been to was at a family reunion, and it seemed like we had a mountain of barbecue, just piles of pork. It was so delicious.

---
BRENNAN FOLSOM
That's hard. I love any type of barbecue, nothing specific.
Do you have any tips for beginners?
Yeah, I would say that practice makes perfect.


---
DEBBIE HENSON
Every year we have a barbecue at a different one of my friends' house and everyone brings something. So there's a ton of salad, dessert, beer, food, and just talking. And watermelon. Watermelon is my favorite part of every barbecue.
---
INTERVIEWS BY SEAN PRICE 7/05/2018,
DOWNTOWN SPOKANE