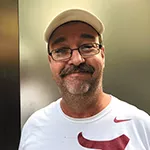 ALFRED WILMOT JR.
In pro football, the amount of money they're paid. Honestly, I think they're overpaid. I understand they have a lot of physical talent and so on and so forth, but they're [given] multimillion-dollar contracts when we have people in the country that don't have enough to eat, don't have a roof over their head.
---
KYLIE VERA
I guess the way it militarizes society.
Can you elaborate?
Football started becoming really popular in the U.S. during WWI and WWII, as a way to prime us for conflict and violence in the wars, so when we sent soldiers off they didn't view their acts as so egregious because they were normalized in our society.
---
JOHN DEMAKAS
I think I would get rid of the pads, and change blocking rules in such a fashion that it minimizes the [head] contact. I mean, you don't do it in rugby, other injuries occur, but head injuries are very rare. It would change the sport, let's see if it does. It's a great sport otherwise.


---
ANN BYERS
I'd make it more for fun when [kids] are smaller. Keep it with the flag football a little bit longer before they start with the contact. Keep it more for fun, and then make it competitive later on so the kids can be making their choice instead of the parents.


---
HOLLY HILL
I'd not make it as long.
What's the optimal football game length?
We're used to 90 minutes in the U.K. I'd go two hours, max.


---
INTERVIEWS BY BROOKE CARLSON
8/24/18, DOWNTOWN SPOKANE