MIKE KRAFT
Disasters from impending global warming crisis and mankind's response to it.

How do you think we should cover that?
In 25 years we'll be responding to three months of a fire season due to climate change. We hope by that time we will have put in a congressman who believes in the climate science.
---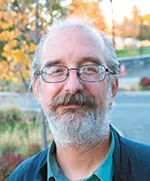 MATTHEW JAMES
I think humanity needs to wake up and start helping people in the future. If we don't, this is what it will look like. It will be pretty doom-and-gloom sad.
What would that
Inlander
story look like?
"The Human Race Oughta Wake Up," how about that?
---
JAMES WELCH
You're going to be reporting on a whole bunch of the City Council people just getting out of prison for being convicted for letting a whole bunch of homeless people die in the streets.

In 25 years you think there will be a law against letting homeless people die?
Hopefully. Yeah. They don't care. There's no war on homelessness. There's a war
against
the homeless.
---
JAY ENDERS
I like when you do local community stuff. Historical stuff. Local restaurants?
What are the hot local restaurants going to be like in 25 years?
I think people are going to get tired of the chains. People are going to want more.
Are Dippin' Dots going to be the way of the future?
I think they're done.
Sad.
---
GUZAL YAKUBOVA
I think that you will be writing about the flying cars. Like, cars will be flying.

What will the headlines be? Will there be disasters? People running out of gas in mid-air? Flying Lime Bikes?

Yeah, yeah, maybe! I just hope there's going to be peace everywhere, no more wars.


INTERVIEWS BY DANIEL WALTERS
10/15/2018, OUTSIDE CITY HALL