JOSH SEIDEMAN
A week because I lived in Cheney growing up and the way it worked was if the electricity went out where we lived, not only did electricity go out for our house warmth-wise, but our water pump was electricity... It happened multiple times that we would basically dry camp at our house for a week.
---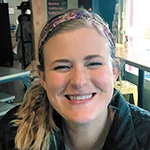 DALANEY GOODYEAR
I think three weeks. It was when I was staying in the jungle in Costa Rica and the base where I was staying, we were doing work there and it did not have electricity or running water. We had to go to the river and scoop water to flush the toilet.

---
CRISTY MACABINGUIL
The only time I can think of is when we had that power outage from the windstorm and that was like four days and I would go to Gonzaga for power.


---
JOSH MORALES
Three days for me. I was just camping.
What was that experience like?
It was fun. It's different, you really get to experience nature.
---
DERRICK JOHNSON
Two days.
What were the circumstances?
Just when the power went out in November 2015. The power went out on my block.
What was that like?
It sucked not being able to charge my phone, that's probably the biggest thing.

INTERVIEWS BY MICHAELA MULLIGAN
11/11/2018, ARCTOS COFFEE