EVAN LOVELL
I would say my favorite thing to do is to drive around the neighborhoods that display lights around the South Hill and I think that's what kinda jump-starts it for me.
---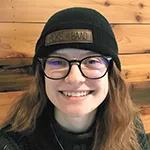 ALLIE GUNN
Mostly I start drinking peppermint coffee at like the very end of October.
Do you have a favorite place you like to get it from?
There's a Rocket Bakery down on Garland and I live right by there so I go there almost three to four times a week.
---
ALEXANDER VONNER
It's around enough to where there's nothing I need to force. I just take in the surroundings, work off of other people's energy. Typically that's enough to get me going. To see how other people are so excited about it. I have a daughter, so decorating with her is usually a big thing that kicks it into gear, too.
---
JON TETTLETON
I don't really have a choice in the matter because my wife starts early and she puts on the Hallmark channel and then there we are, it's like Nov. 1. So the Hallmark channel has anchored our intrigue into the holiday spirit. And then she decorates pretty early, too.



---
DEVIN MECHAM
As soon as eggnog starts showing up at coffee shops I start drinking eggnog and I play Christmas music for days with my kids. We have Christmas music dancing parties every evening.




---
INTERVIEWS BY MICHAELA MULLIGAN
11/16/2018, VESSEL COFFEE