FRED HUMANN
I'd say pretty chaotic. With everybody. I feel like both sides, the Democratic Party and the Republican Party, are just angry and don't want to work with each other.
---
RIO ALBERTO
I think the state of our union, meaning the state of our country as a whole, is turbulent, energetic, moving forward in one direction or another, but turbulent.
---
ABBY SHEMWELL
State of the Union? Well, I know the president gives a State of the Union address. But he's not because the government is shut down. I know that much. Well, I don't really know what the State of the Union address is. So I don't really have any thoughts on it.

---
ASHLEY MOWRY
Not very good. I don't know very much about it. Things just seem really hectic right now. That's the best answer I got.
---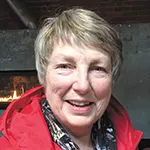 RUTH FRENCH
What I would say couldn't even be printed in the Inlander.



---
INTERVIEWS BY ARCELIA MARTIN
1/24 AT THE SARANAC COMMONS