ANDY HOLM
I went to sushi, and I was really excited to take this guy to sushi, and he had one California roll, hated it, and refused to eat anything else and made us leave and go get pizza. And I love sushi.
Did the relationship work out?
No.
---
BRANDON DEAN
Jeez, there are so many. My worst date would be, it was just a hang out. And I went and she had invited other guys over, too. Like, told me they were her guy friends and then I found out that they were just meeting her. So I left.
---
STEVE GIBBS
The gal I was on the date with was just talking on her phone the whole time. It didn't last very long and after about 10 minutes I was like, alright.
Were you at a restaurant?
No, we were at the movies, waiting for it to start. I remember just sitting in the movie theater waiting for it to start and thinking she doesn't want anything to do with me, so I left.
---
RUSSELL RUBBERT
Probably going out to dinner for the first time is the weirdest. Just because it's awkward.
Have any of the first dates worked out?
No, I'm super picky so it doesn't ever really work out.
---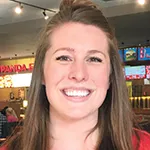 NICOLE COPE
I would say my worst date was a prom I went to and my date had to be home by 10 o'clock. So I ended up with my husband-now and his date, and I was the the third wheel. So, lots of fun.
Well it worked out then!
It worked out. I mean, I got him.
---
INTERVIEWS BY ARCELIA MARTIN
2/7/19, RIVER PARK SQUARE