MICHELLE ESPINOSA
My favorite thing to do is going sledding. I'm from California so I've never had a snow day, so it's really fun to get a few sleds and make jumps.




---
JENNIFFER WILLIS
Play with my animals.
What animals do you have?
I have a horse, named Lady. And then I have a goat, and his name is Lokie.
---
LIV MCSHANE
Probably, this is kind of lame, but going to the big gym. Like Rudolf [Fitness Center] because I never make it to that side of campus, so it's nice to have a long gym session.
That's so nice.
It's kind of lame. But it's nice to get some endorphins going.
---
HENRY ECHTERNKAMP
I just really got into snowboarding over winter break, so that was something I really wanted to do. But the roads were pretty bad so I ended up just going over to Jepson [Center].
And you just snowboarded behind Jepson?
Yeah, it's a super fun time.
---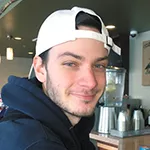 QUINN SNYDER
My favorite thing to do — well, it's a snow day, so I like to take advantage of that. I went out with my girlfriend and we made a snowman.



---
INTERVIEWS BY ARCELIA MARTIN

2/14/2019, DUFF'S BISTRO, GONZAGA,