AVERI HELLMAN
Probably Adele, because her voice is amazing. I listen to her when I'm hanging around the house, cleaning, driving or anything. She also made my middle name cool because my middle name's Adele. Now, people tell me they love my middle name.
---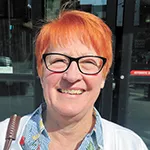 LUANNE MACCARINI
One of my favorites is Judy Collins. I love her. She's a '70s hippie type, and that's where I'm from. She picks songs that have something to say, not just 'doo-dah-doo-dah.' She has a real throaty voice, so it really gives you a sense that she means what she's saying.


---
PAUL BROWN
Ariana Grande, because my daughter loves her so much, and kinda looks like her. She's been to every single one of her concerts. My daughter watched Ariana when she was on TV, and she really liked her singing too. I have to go with what my daughter likes.


---
VICKIE HURT
I love so many. I do like Olivia Newton-John, but she's not my favorite. There's a Christian singer that I love, Francesca Battistelli. I love how strong her spirituality is. She sings "The Breakup Song." It's about fear, and I relate to it. She's a beautiful person. Now if you say group, it's a toss-up between the Beatles and MercyMe.
---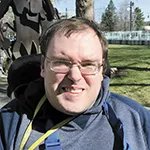 MICHAEL CLARK
Celine Dion. My favorite thing about her is that she went through a lot of hard things to get to where she's at, and she never let anything bad define her.
---
INTERVIEWS BY JACKSON ELLIOTT
4/1/2019, RIVER PARK SQUARE