GRACIE PELTON
Definitely anything having to do with cheese, especially cheese and crackers. It's one of my favorite snacks. That'd be hard. I like Gouda cheese, that'd have to be my favorite cheese.
---
HOLLY BYLER
I really like elk steak. I'm from Montana, and I hunt and eat my own.





---
CHRISTOPHER CLUBB
Milk. Does that count? I drink milk in my coffee everyday, and I depend on coffee, although I don't depend so much on other foods. I was a vegetarian for a long time and it wasn't that difficult for me to give things up, but I wasn't a vegan, because giving up dairy is very difficult.
---
ROSE FANGER
I think eggs, but I've already given them up for a different reason. It's very hard, I love eggs. I love breakfast. I like all kinds of eggs, I like omelettes, I like soufflés. Eggs are in everything. You make breads with them, you bake with them. It's hard to avoid eggs.


---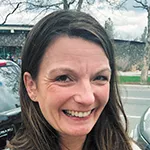 JOSIE DIX
Probably anything dairy. Most of all yogurt. My favorite thing about it is that it's good for breakfast, lunch or dinner.
INTERVIEWS BY JACKSON ELLIOTT 4/15/19
ATTICUS COFFEE