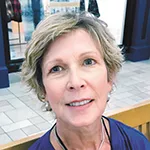 DEBBY OGAN
The Swinging Doors and their roasted chicken. It's way on the north side and we always lived on the south side. So, my husband and I went there the other night and they give you four big pieces of roasted chicken and jojos for 15 bucks and we split that, and it was happy hour, so we got cheap beer.
---
JAKE LANEY
It depends on what people like. If they like fast food Zip's is awesome. Frank's Diner is a great place to go. Dick's Hamburgers is always a good stand-by. You know, if you're on a budget Dick's is a really good place to go. Those are the staples for the community and they've been in Spokane for a long time.
---
ASHLEY BUNKELMAN
There's two different things that I love. If you're looking for a restaurant that's kind of fast food I would suggest Wolffy's on the north side. If you're looking for a really cute date, I would suggest Kendall Yards Night Market. They have [lots of] different food trucks on Wednesday nights.
---
JOAN JOHNSON
Tortilla Union has a wonderful $2 taco, a whole series of them. It's absolutely wonderful. I'd make an effort to come to their happy hour from 2-6 pm. That's my very favorite place to go for a cheap date.



---
CHRIS TATARYN
Cheap date? I'd say froyo.
Why froyo?
It's fun. You can get a dessert and it's a good time. It's still something social you can go do.
INTERVIEWS BY RILEY UTLEY
7/12/19, RIVER PARK SQUARE