DEVIN HUGGINS
I'd choose Bone Clocks [a novel by David Mitchell]. It made me think so much. There's so many little snippets of humanity.
---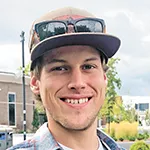 CONNOR CLAWSON
I'd bring my guitar.
Why?
Because then you can create art forever.
---
HANNAH HUGGINS
I would take the portrait I painted of my cat Margo, so I wouldn't ever feel alone. I could just stare at it!


---
BRENDAN DEVINE
Episodes, by Alvin Ailey [a dance performance choreographed by Ulysses Dove that premiered in 1989].
Why?
It's a piece about grief, and I guess if the world was ending, I'd be pretty sad.
---
CARRIE McCLEARY
I would do the whole Harry Potter book series.
Why would you choose that?
Because there's a lot to read. It would take longer than watching the movies, and you could just do it over and over again!
INTERVIEWS BY CONNOR GILBERT
9/16/19, DOWNTOWN SPOKANE