JUSTIN McKINNEY
Social media.
How do you distinguish between what's real and fake?
What makes logical sense.
What do you consider "fake news"?
It's emotional, not fact-driven. It's an opinion that's emotionally charged to get people to believe it's news.
---
LUIS GARCIA
TV news is probably the biggest thing, because it's easiest and most convenient. I try to get it from a lot of sources.
Why do you see that as most trustworthy?
If you get multiple sources, you can form your own opinion based on that instead of one source. Things can get polarized and it's good to look at everything.
---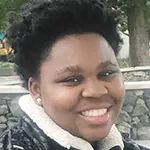 RACHELLE ARNOLD
Mostly my friends, the people I live with.
Why your friends?
Because my friends are always watching news all day and night, so they know. It's like music at our house.
---
KATE HILL
I like Apple News and CNN.
Why do you see those as most trustworthy?
I feel like they show sides of both political spectrums.
---
AMARA GAMACHE
Probably NPR. I listen to a lot of NPR podcasts.
What do you consider "fake news"?
Things that focus on just getting people to read it rather than delivering the news.
INTERVIEWS BY CONNOR GILBERT
10/7/19, RIVERFRONT PARK