ERIN HEGARTY
I've heard that in China they've come up with a way to produce nuclear energy with less harmful side effects, and they're using composted food to produce extra energy.
What are ways individuals can improve with energy?
Just conserving energy that we use and finding ways to use it more efficiently.
---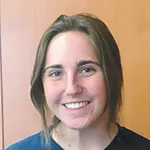 BROOKLYN POPP
I think it's just being mindful of where energy comes from and what you're using and abusing when you're not being mindful. Say you're a local business, and you leave your lights on after you close to be inviting. That uses a ton of energy.
---
ASHTON STOWELL
At least from the research I've done, I think nuclear energy is promising and if we invest in nuclear plants that aren't susceptible to earthquakes, that's better than anything else.
---
CHARLES PRENTICE
I think I would go more towards solar energy, but I know it's not efficient and it's expensive.
How can solar energy be better?
I forgot the percentages, but I think scientists have been working on solar that can get up to 20 percent [efficiency]. Nuclear is the most efficient we have right now, but the complications are difficult, even if solar has similar problems.
---
TOMMI GRIFFITHS
Expanding wind, solar and clean energy. California has so many wind turbines, and I rarely see any out here. Even on the way to Seattle, I barely see any compared to California.
Do you think clean energy should become more prevalent?
We should start moving towards cleaner energy just because it's safer.
INTERVIEWS BY CONNOR GILBERT
10/27/19, GONZAGA CAMPUS