MATT SETZER
The last one I went to was Lucas Brookbank Brown. It killed me. I just found out this place is closing today. The same thing happened to the Observatory. It's rough seeing it happen. Not to mention, Krist Novoselic was here just a month ago.
What do you enjoy about concerts here?
It's personal. At all times, you're less than 50 feet away from artists.
---
BRIANNA DILTZ
Naked Giants. Definitely Naked Giants.
Why was that your favorite?
They had such great crowd interaction. I loved it.
---
JEAN SMITH
Probably Surf Curse.
What will you miss about the Bartlett?
I really like the venue setup, so you can either be in the pit or sitting down. It's always a good crowd, too.
---
SIARA PRPICH
I saw No Vacation here over the summer. It was very enjoyable. I danced, I had a good time, I liked how comfortable it was. The benches on the side made it nice. I didn't have to carry my jacket or my purse.
---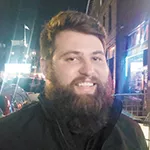 NATHAN HAMILTON
Summer Cannibals. I've seen them before and they're one of my favorites from Portland.
What will you miss most from the Bartlett?
Oh man, I mean, just the music alone. It's the best music scene in Spokane. And the atmosphere too, it's the best.
INTERVIEWS BY CONNOR GILBERT
11/3/19, OUTSIDE THE BARTLETT