TIA McKEE
I work in retail, so I can always tell right away.
What are the signs?
First there's lots of red, lots of sparkles, and Christmas decorations come soon after.
---
NICK SCANLON
The Christmas music.
What album makes you think of Christmas the most?
I don't remember the specific name of the album, but everyone recognizes it; definitely Michael Buble.
---
JESSICA VAN PATTEN
When Thanksgiving gets forgotten.
When is that typically?
When my sister-in-law starts saying "Is it too early to put my tree up?" or when I go into Walmart and there's nothing to do with Thanksgiving anymore.
---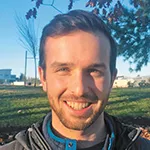 RYAN HOLMES
The leaves get cleaned up.
What do you think is the most fun thing to do come Christmas time in Spokane?
Probably visiting the Davenport Christmas tree. That's when it's like, "Wow, Christmas is here."
---
JADE SMITH
I guess everybody's vibe kind of changes. More food and treats come around, too. That's one of the biggest indicators.
What's your favorite treat?
The cookies.
INTERVIEWS BY CONNOR GILBERT
11/20/19, RIVERFRONT PARK