LUKE MODUGNO
A new car, with a bow on it like in the commercials.
Do you think you've earned it this year?
Hell yeah, because I've been good and saved my money well this year.
---
MAX COOK
A nice warm jacket. Something that has style but also the mobility and purpose of a jacket.
What's the worst gift you've ever received?
Jell-O. My friend's really weird, and he gave me a wrapped bowl full of Jell-O.
---
JULIE DISTEL
An iPad.
Do you enjoy Christmas shopping for others?
I love shopping for Christmas. It feels festive and you can picture the people's smile on their face when they get their gift.
---
JADA DISTEL
An Apple Pen.
What's the best gift you've ever received?
When I was younger, I got a gift for my birthday and it was a trip to London. That was pretty great.
---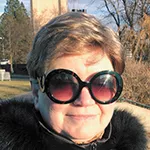 NADIA YUNIKOV
All I want is good health for me.
Have you been naughty or nice this year?
Hmm... I think I've been nice. I try my best to be nice to people.
INTERVIEWS BY CONNOR GILBERT
11/30/19, RIVERFRONT PARK